Fashion exhibit pays homage to NY style icons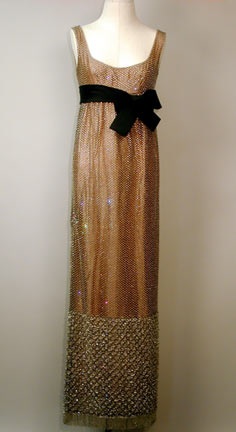 Notorious & Notable
"Tissue of Diamonds" dress made for Lauren Bacall, 1963
Black silk net studded with crystal brilliants, over peach silk charmeuse - Gift of Lauren Bacall
NEW YORK | Mon Sep 13 - Fashion may be for followers but style is original is the message of a new exhibit which gives a glimpse into the closets of 81 women who made their mark on Manhattan.
"Notorious & Notable: 20th Century Women of Style," which opens on Tuesday during
New York Fashion Week
, includes fashions and jewels worn by glamorous newsmakers such as Jacqueline Kennedy Onassis and stripper Gypsy Rose Lee.
"We're not saying who is notorious and who is notable," said Judith Price, president of the National Jewelry Institute, which collaborated on the exhibit. "We're leaving that up to the beholder."
But she added that the exhibit at the Museum of the City of New York honors "women who put their thumbprint on New York fashion."
In addition to fashion icons, the exhibit also pays homage to women who were prominent in society, politics, business and the arts and who represent New York's history and cultural diversity.
A turn-of-the-century black silk gown worn by the wife of
J.P. Morgan
Jr. is shown across the runway from Congresswoman Bella Abzug's floppy hat and early 1970s maxi coat.
"Style is simple. You wear it. It doesn't wear you," explained New York designer Jackie Rogers, whose clients included Kennedy Onassis.
Designer Norman Norell's sundress for 1960s consumer advocate Betty Furness and singer Marian Anderson's 1941 gold concert gown with feathers are also featured in the show.
"These are the show stoppers," Price said. "Here's the gold handbag that Haile Selassie gave to Jackie, which she should have given back," she added, referring the gift from the former emperor of Ethiopia to the then first lady.
Jewelry is also featured prominently with designer
Carolina Herrera
's blue topaz earrings and legendary
Vogue
editor Diana Vreeland's jeweled gold Tiffany pin on display.
Art collector Corice Canton Arman explained the story behind her 18-karat gold cuff bracelet with violins and horns done in rubies made by her late husband, the French-born artist Armand Pierre Fernandez.
"Arman used string instruments," she said. "For him, they were reminiscent of the female body."
Phyllis Magidson, the museum's curator of costumes and textiles, said there was an art to wearing clothes such as model Betsy Pickering's 1970s black
Halston
gown with plunging V neckline.
"You had to have extremely good posture. If you rounded your shoulders, everything would pop out."
By Jan Paschal
© Thomson Reuters 2023 All rights reserved.