Fashion high-flyer Asos falls back to earth in UK
LONDON, Oct 14 (Reuters) - British online fashion retailer ASOS said stellar sales growth in its home market had almost ground to a halt, taking its chief executive by surprise and putting pressure on him to speed up overseas growth.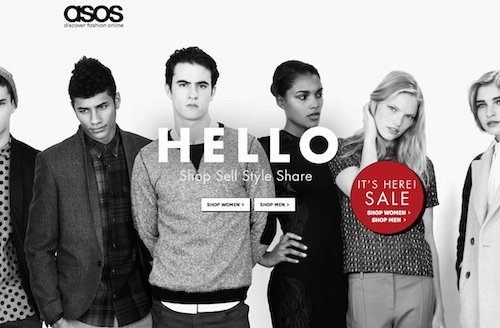 Screen shot from Asos home page
CEO
Nick Robertson
told Reuters he had underestimated the impact of the economic slowdown on his business, which targets internet-savvy 16 to 34-year-old women looking to emulate the designer looks of celebrities such as
Kate Moss
,
Sienna Miller
and
Alexa Chung
.
Data on Wednesday showed Britain's jobless total hitting a 17-year high, with youth unemployment its highest since records began in 1992.
Shares in ASOS, already down about a third over the past three months, were 3 percent lower at 1,461 pence by 0956 GMT as analysts fretted that rapid growth in Britain had gone for good.
"We see this as a function of the consumer environment, increasing competition and a degree of normalisation in internet growth rates," Espirito Santo analysts said.
"In addition, the weather will not have been helpful towards the end of the period."
British retailers are generally struggling as rising prices, muted wages growth and government austerity measures force shoppers to rein in spending on non-essential items.
Until recently, ASOS had bucked the trend, benefiting from a young core customer base, the migration of spending from the high street to the internet and its aggressive push overseas.
Shares in ASOS reached a 12-month high of 2,508 pence in June, fuelled by buoyant trading and bid speculation, but have since fallen back sharply as the overall market has tumbled, directors have sold shares and investors have worried about rising youth unemployment.
ASOS on Friday said UK retail sales growth slumped to 1 percent in the second quarter of its financial year from 15 percent in the previous three months to June.
"Even to support this kind of level of growth we are pulling levers that we didn't think would have to be pulled," Robertson said in a telephone interview, pointing to increased promotional and marketing activity.
OVERSEAS GROWTH
"It's not a complete train crash," he said, forecasting full-year retail sales growth in Britain would be "somewhere between flat and (a) low single digit (percentage rise)."
"The story continues to be, we've just got to keep internationalising and internationalising quickly because that's where we're going to find the growth," he said.
ASOS, which launched three country-specific sites in Australia, Italy and Spain during the quarter, taking the total number of sites to seven, said international sales rose 141 percent to 62.6 million pounds in the three months to Sept. 30.
That was down from 160 percent growth in the first quarter.
Total retail sales were up 53 percent, compared with a 69 percent increase in the previous quarter.
"With costs and stock tightly managed and retail margin ahead of prior year, we are confident of achieving results in line with market expectations," ASOS said.
Singer analysts said the fall in ASOS's share price had been overdone, given its potential for overseas growth.
"Although UK growth could be rebased, strong international momentum from a highly immature base, underpins a stable revenue forecast agenda and continues to drive our enthusiasm for the ASOS investment case," Citi analysts added.
John Lewis
, Britain's biggest department stores chain, on Friday said sales rose 1.2 percent year-on-year in the week ended Oct. 8, held back by warm weather.
By James Davey
© Thomson Reuters 2023 All rights reserved.