Fashionable clothing company faces tough IPO market
By Clare Baldwin and Alexandria Sage
NEW YORK/SAN FRANCISCO, Feb 19 (Reuters) - U.S. clothier Express may have a hard time selling investors on its initial public offering despite a recovering retail industry.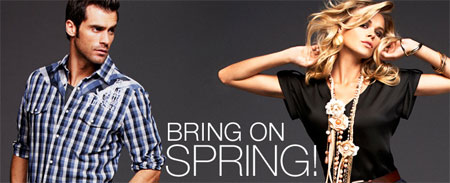 Photo: www.express.com
The No. 6 U.S. specialty retail apparel brand will have to overcome investors' fears about competition, global expansion and a still-lukewarm market for women's clothing in the United States, which lapsed during the financial crisis though it has been steadily improving.
Michael Dart, head of the private equity practice at retail consulting firm Kurt Salmon Associates, estimates overall women's apparel sales will rise 3.8 percent in 2010 and 4.5 percent during 2011, compared with the historical average of 5.4 percent growth.
But liabilities-laden Express may get a tepid response for its IPO despite the improving environment, some analysts say.
"They were a leveraged buyout at the top of the market," said IPOdesktop.com President Francis Gaskins. "They have a lot of debt and they're in a low gross margin business."
Investors have pushed back against private equity firms looking to unload debt-laden portfolio companies, and many IPOs have been cut, postponed and canceled .
Express is backed by private equity firm Golden Gate Capital. Golden Gate, which manages $9 billion, bought 75 percent of Express in 2007 when its parent company Limited Brands (LTD.N) sought to exit the volatile apparel industry.
Neither Express nor Golden Gate returned calls for comment.
"Despite what Blackstone, Carlyle, and KKR are saying, private equity, high-debt offerings are not being well received," IPO Boutique Senior Managing Partner Scott Sweet said.
Express is the No. 6 specialty retail apparel brand in the United States, according to a prospectus filed with the U.S. Securities and Exchange Commission. As of Jan. 30, the brand had 573 stores selling clothing aimed primarily at 20- to 30-year-old women.
A YOUNG CROWD
Known for its tailored "editor" pants, Express' balance sheet has nearly as much in liabilities as assets, and sales have fallen. The Columbus, Ohio-based company had $763 million in total liabilities and $860 million in total assets as of Jan. 31.
Express saw same-store sales, at outlets open at least a year, slip 10 percent in the 39 weeks ended Oct. 31.
To attract investors, Express must prove it can stand up to competition from the likes of Bebe (BEBE.O), Forever21, Gap (GPS.N), Guess (GES.N) and Macy's (M.N), which also sell clothing to recent college graduates. So far, it's not looking good.
Besides its recent weak sales, Express' online division is still young. It began selling clothes online in July 2008 but only netted about 5 percent of its sales from its website in the 39 weeks ended Oct. 31. Its peers netted some 10 to 15 percent, it said in its prospectus.
Moreover, plans for international expansion might also be overly ambitious, analysts said. Opening a flagship store in a major city like Tokyo or London can help prop up a stock, but it only works with certain hot brands.
"Until the brand gets momentum back in the U.S., international growth is probably a limited opportunity -- and unnecessary at this point," said Needham & Co retail analyst Christine Chen, noting there was room for U.S. expansion.
Express partnered with Alshaya Trading Co to open four stores in the Middle East and said it sees additional opportunities in the overseas markets in the next five years.
Only one clothing company went public in the last two years -- youth apparel retailer rue21. Shares of that company rose 28 percent above their IPO price in their November debut and are now up more than 44 percent, creating a glimmer of hope for the prospects of the still-weak sector.
There are 22 IPOs in the pipeline. Four, including Express, are apparel retailers, according to Thomson Reuters data.
If the IPO market improves in the few months time it takes Express to wend through the IPO process and the company prices at a low enough valuation, the deal could be OK, analysts said.
Chen cited noticeable merchandise improvements at Express in the two years since Golden Gate has run the company, in contrast to earlier days when it "tried to be too many things to too many people."
"Now it seems like it's affordable fashion for both work and going out. It's nothing innovative by any means but they have a point of view," Chen said.
Express' net income grew to $29.3 million in the 39 weeks ended Oct. 31 from a loss of $1.9 million in the year-earlier period. (Reporting by Clare Baldwin in New York and Alexandria Sage in San Francisco; Editing by Richard Chang)
© Thomson Reuters 2022 All rights reserved.