Festival wear, overseas demand lift sales at ASOS
LONDON, July 14 (Reuters) - Strong sales of maxi-dresses and festival wear, as well as surging demand from abroad, helped drive a 54 percent rise in first-quarter sales at British online fashion retailer ASOS (ASOS.L), it said on Wednesday.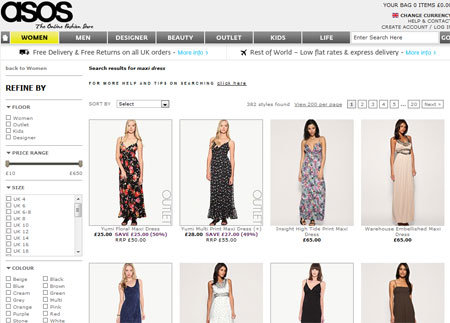 www.asos.com - maxidresses S/S 2010
Chief Executive
Nick Robertson
told Reuters the group was confident of continued growth, despite signs that British shoppers are turning cautious as the government slashes spending and hikes spending to cut its budget deficit.
"I think you've got to look at consumer chunks. That young fashion consumer has proved remarkably resilient," he said in a telephone interview, referring to ASOS's core customers.
"Overlay the fact she's on the internet more than she's ever been ... and overlay the fact that this (ASOS) is now an international play. That's why we're still very confident."
A survey showed earlier on Wednesday that British consumer morale fell to its lowest level for a year in June, and several retailers and analysts fear trading could get tougher than even during the recession.
ASOS targets internet-savvy 18-34 year olds looking to emulate the designer looks of celebrities like
Kate Moss
,
Sienna Miller
and Alexa Cheung, but at a fraction of the price.
While others have suffered, it has benefited from a young customer base with fewer financial commitments and from the migration of spending from the high street to the internet.
VALUATION
Retail sales rose 54 percent to 61.7 million pounds ($93.8 million) in the three months ended June 30, led by demand for maxi dresses, sun dresses and festival wear like denim shorts.
British sales rose 32 percent, while international sales were up 111 percent to account for 37 percent of the total, led by demand from the United States, France and Germany.
Figures from both regions were slightly below those reported after nine weeks of the quarter, though ASOS said it was held back by an extra week of sale activity in the comparable period last year, and that its gross profit margin rose.
"Clearly, if growth continues at this rate, we would be upgrading (full-year profit forecasts)," said Arden Partners' analyst Nick Bubb.
But he kept his current forecast of 26.5 million pounds, citing the extra costs involved in ASOS's plans to build a new, larger warehouse, and said the good news was already priced in to a stock trading at 37 times forecast earnings.
He recommended investors switch to rival Supergroup (SGP.L), which is due to report full-year results on Thursday.
At 0750 GMT, ASOS shares were up 0.9 percent at 904.5 pence, valuing the business at about 654 million pounds. The stock has outperformed the UK general retail index by more than 100 percent this year.
Robertson said ASOS was on track to launch a local website for the United States in September, with France and Germany following shortly afterwards.
He did not know the intentions of Danish supplier
Bestseller
, which has built up a 7 percent stake in the firm.
ASOS said first-quarter revenue, including postage and packaging income and third-party revenues, rose 48 percent to 65.8 million pounds.
(Editing by Julie Crust and David Cowell)
© Thomson Reuters 2023 All rights reserved.