Fetish dresses, fur collars defy crisis in Paris
By Sophie Hardach and Mathilde Gardin
PARIS (Reuters) - Models in black fetish dresses showered banknotes over the catwalk at Jean-Paul Gaultier, while Christian Lacroix opted for baroque gold dresses and big fur collars as Paris fashion dared to be decadent.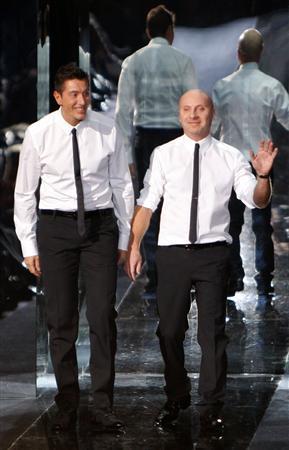 Smoking cigarettes and sipping drinks, Gaultier's strong women in black power suits and lace stocking looked like it would take more than an economic crisis to scare them.
A model with a whip ended a staged fight, rounding off an ironically aggressive show.
Gaultier said he had wanted to display "a bit of fetishism," and the big shoulders and cinched waists continued the 1980s power-dressing trend seen in New York and Milan.
At Lacroix, the fairytale fantasy gowns of this year's haute couture show had given way to subtly crafted draped jersey tops, trouser suits and mustard turtleneck sweaters with ruffled shoulders, with splashes of golden extravagance.
Layered outfits, with heavy collars, puffed sleeves and egg-shaped wool coats, were a luxurious take on grunge, in tune with the soundtrack -- a string version of Nirvana's "Come As You Are."
CLASSIC COLOURS
Classic colors such as navy, black and grey have featured heavily at this season's autumn/winter collections, with many designers trying to play it safe as fashion houses struggle with budget cuts and hesitant shoppers.
One owner of a Christian Lacroix boutique in the south of France told Reuters her clients -- many of them American, British or Belgian -- were still buying enthusiastically.
Buoyed for years by emerging market clients, especially Russians, many luxury brands face an uncertain future as Russia's economy is grinding to a halt.
"I don't have any Russian clients -- they are only on the Cote d'Azur. For the boutiques there, it's like this," said Michelle Audema, the boutique owner, sweeping her hand through the air to indicate a steep fall.
"They only worked with Russians."
She said weddings and lush parties in the region where her boutique is, near Marseille and Avignon, were encouraging people to buy.
"People still dress up. This year, they started preparing for the May and June weddings much earlier than usual. I think after all those gloomy reports in February, they just needed some change," she said.
© Thomson Reuters 2022 All rights reserved.