Fifth & Pacific loss narrows, Kate Spade sales up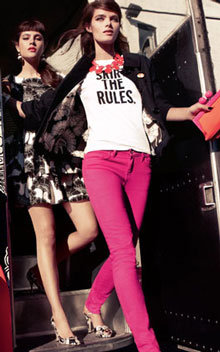 Kate Spade / Photo: Fifth & Pacific
Fifth & Pacific Cos Inc reported a narrower quarterly loss on Thursday, helped by sales of its upscale kate spade brand.
Still, the company, which during the quarter changed its name from
Liz Claiborne
, said total sales from continuing operations fell 6.5 percent to $337 million, dragged down by declines in its
Juicy Couture
brand.
The clothier and retailer reported a second-quarter net loss of $52.1 million, or 48 cents a share, compared with a year-earlier loss of $89.9 million, or 95 cents a share.
Excluding one-time items, Fifth & Pacific had a loss from continuing operations of 9 cents per share, compared with analyst expectations for a loss of 12 cents, according to Thomson Reuters I/B/E/S.
In the past several years, the company has sold off many of its brands, including Liz Claiborne, to lessen its debt load and focus on the businesses where it sees the most potential.
Sales at kate spade rose 48.1 percent to $101 million, while sales of
Lucky Brand
jeans rose 15.3 percent to $112 million.
Juicy Couture's sales fell 10.4 percent to $105 million.
Fifth & Pacific reiterated its forecast for 2012 earnings of between $125 million and $140 million before interest, taxes, depreciation and amortization.
© Thomson Reuters 2023 All rights reserved.