Financial crisis adds to Sept US retail sales woes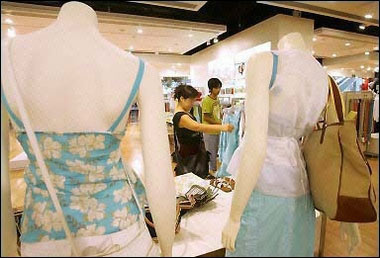 Photo : Frederic J. Brown/AFP
* What: September same-store sales expected up 1.9 percent
NEW YORK, Oct 07 (Reuters) - Top U.S. retailers, with the exception of discounters and warehouse clubs, are expected to post a drop in September sales this week as consumers balked at spending during an expanding financial markets crisis.
Already hit hard by a U.S. housing slump and credit crunch, consumer fears over a potential recession began to play out in September as several U.S. banks and investment firms failed or accepted hasty buyouts.
The financial crisis "exacerbated an already tenuous level of consumer confidence," said Ken Perkins, president of Retail Metrics. "The macro situation had already been pretty precarious. This just added fuel to the fire."
Consumer anxieties are casting a greater pall on the upcoming holiday season, retailers' biggest sales period of the year, and could force some companies to cut their earnings forecasts even further, analysts said.
"That's a definite possibility," Perkins said. "September is the biggest month in the third quarter. I would be surprised if we didn't see further downward revisions."
Goldman Sachs analyst Adrianne Shapira cut 2008 earnings estimates by 3 percent on average for 12 retailers, including Target Corp .
U.S. retailers are expected to post an increase of 1.9 percent in September sales at stores open at least one year, slightly above the 1.4 percent gain a year ago, according to Thomson Reuters research.
But the increase will be mostly due to retailers like Wal-Mart Stores Inc , Costco Wholesale Corp and BJ's Wholesale Club Inc , as shoppers, still battling higher costs and a prolonged housing market slump, chose to buy necessities like food and fuel over clothes or home goods.
Excluding Wal-Mart, analysts expect retailers to post an overall monthly same-store sales gain of 1 percent, below the 1.4 percent increase a year ago.
Many retailers are expected to post results on Thursday, but some major retailers, including Wal-Mart and Target, are due to report September sales results on Wednesday to avoid a conflict with the Jewish holiday of Yom Kippur.
BACK TO SCHOOL
The back-to-school shopping season, which extended into September, failed to add meaningfully to sales, particularly for teen retailers, analysts said.
Consumers in areas hit by hurricanes bought items like water and non-refrigerated food in the month, while late summer heat and humidity in the U.S. Northeast cut into fall season sales, weather tracking firm Planalytics said.
Same-store sales at department stores including J.C. Penney Co Inc are expected to drop 6.1 percent, while they are expected to be 2.7 percent lower at apparel retailers.
"Department stores, particularly the mall-focused retailers, had a very challenging September," said Craig Johnson, president of retail consulting firm Customer Growth Partners. "I am trying not to throw the baby out with the bath water. This is probably the most difficult September in memory."
While some analysts cut their earnings expectations for a slew of retailers, others offered almost no hope that sales would gather momentum in the months ahead.
"While we see little improvement in October, November will likely be the worst month of the year, up against the toughest comparisons and a very detrimental calendar," said Lazard Capital Markets analyst Todd Slater in a note.
Thanksgiving falls a week later this year compared to last, on Nov. 27, leaving fewer pre-Christmas shopping days in the month, Slater said.
The National Retail Federation has predicted U.S. holiday sales in November and December will grow at 2.2 percent -- the slowest pace in six years. Other tracking firms say holiday spending could be the weakest in about a decade.
Mark Montagna, an analyst with CL King & Associates, cut his earnings estimates for seven retailers, including TJX Cos Inc and Gap Inc , citing the weak economy.
Even if November sales are bright, it could be too little too late, according to Barclays Capital analyst Jeff Black.
"We think the damage has already been done and believe many second-half consensus estimates will have to come down," Black said in a note. (Editing by Brian Moss)
By Aarthi Sivaraman
© Thomson Reuters 2023 All rights reserved.