Fishburne wins case in rather dry "Thurgood"
By Frank Scheck
NEW YORK (Hollywood Reporter) - More effective as history lesson than theater, "Thurgood" is the sort of biographical one-person show that once populated Broadway stages with regularity.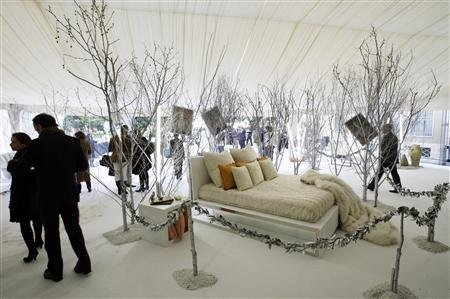 Marking the playwriting debut of George Stevens Jr. -- who dealt with the subject in ABC's 1991 miniseries "Separate but Equal," starring Sidney Poitier -- the drama serves as an excellent vehicle for Laurence Fishburne, here delivering a bravura performance.
Anyone who has seen any of the innumerable predecessors in the genre knows what to expect. The star, wearing enough makeup to provide him with a reasonable physical resemblance to Thurgood Marshall, stands front and center and delivers a biographical account. In this case, it takes the form of a lecture delivered by the aging former Supreme Court justice to the students of his alma mater, Howard University.
The play deals in straightforward fashion with the major legal cases in Marshall's career, starting with his involvement in a battle resulting in the University of Maryland law school being forced to admit a black applicant. (Marshall felt a strong personal connection to the issue because the school had denied his own admission.)
The dramatic centerpiece of the evening, of course, is the 1954 Brown vs. Board of Education case, which effectively struck down the prevailing doctrine of "separate but equal." Also dealt with at length is Marshall's work as legal counsel of the NAACP and his appointment by Lyndon Johnson as the first black to serve on the Supreme Court.
The play begins promisingly, with Marshall describing his early struggles in colorful and moving fashion. But the playwright subsequently concentrates on the various historical legal cases to ultimately detrimental effect, with the proceedings taking on a somewhat dry, scholarly tone.
Marshall's personal aspects are largely downplayed, other than his fleeting jocular references to his inordinate fondness for booze and women.
Despite this, the evening is mainly engrossing thanks to Fishburne's superb performance. Altering his customary deep vocal tones to a lighter, more easygoing drawl, the actor sinks deep into the role and invests the material with a degree of depth, humor and emotion that is always compelling.
Bottom line: Laurence Fishburne delivers a superb turn as the famed Supreme Court justice in this somewhat dry solo biodrama.
Venue: Playwright: George Stevens Jr. Director: Leonard Foglia; Set designer: Allen Moyer; Costume designer: Jane Greenwood; Lighting designer: Brian Nason; Projection designer: Elaine McCarthy; Sound designer: Ryan Rumery. Cast: Laurence Fishburne.
© Thomson Reuters 2023 All rights reserved.