Former Premiere CEO joins fashion house Escada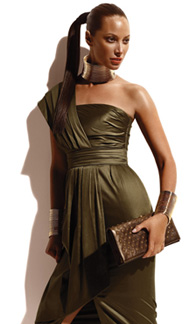 Escada spring-summer 2009
FRANKFURT, Feb 3 (Reuters) - German fashion house Escada (ESCG.DE) has appointed Michael Boernicke, the former chief executive of German pay-TV broadcaster Premiere (PREGn.DE), as finance chief, it said.
Boernicke will take over from Escada's current chief financial officer, Markus Schuerholz, after the company's financial results on March 6, Escada said late on Monday.
It said in December its net loss for the fiscal year to the end of October would widen as sales for the year fell about 15 percent due to weaker demand for luxury fashion.
The fashion house launched a restructuring programme in the middle of last year, initiated by Escada Chief Executive Bruno Saelzer, who joined in July from Hugo Boss (BOSG_p.DE).
Saelzer left the local rival along with several others after Hugo Boss was taken over by private equity group Permira [PERM.UL]. One of them was Werner Lackas, who is now chief operating officer at Escada.
Boernicke resigned from Premiere in September. He was replaced by Mark Williams, an executive at Premiere's main shareholder, News Corp (NWSa.N). (Reporting by Eva Kuehnen; Editing by Greg Mahlich)
© Thomson Reuters 2023 All rights reserved.