France's L'Occitane gets nod for HK listing
By Kennix Chim and Dominique Vidalon
HONG KONG/PARIS (Reuters) - Cosmetics retailer L'Occitane is set to become the first French company to list on Hong Kong's stock exchange, in a potential blow for Paris bourse operator NYSE Euronext (NYX.N)(NYX.PA).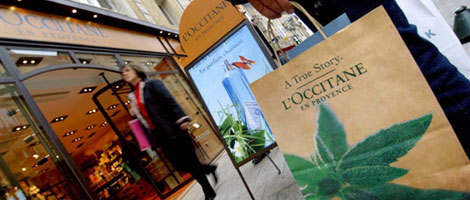 Photo : AFP/Mychele Daniau
The seller of body care products and fragrances has got approval from the listing committee of Hong Kong's stock exchange for a $400 million to $600 million initial public offering (IPO), a source close to the deal said.
The company chose Hong Kong over Paris for its listing as Asia is its fastest-growing market, the source said, adding that L'Occitane planned to start pre-marketing for the offer in early April.
L'Occitane, which manufactures products including almond and olive-based creams and lavender gels in Manosque, a small town in Provence, south of France, was not immediately available for comment on Monday 29 March.
L'Occitane's listing, if confirmed, "could open up the doors for other French firms to list in Hong Kong," said Thibaut de Smedt, managing partner at investment bank Bryan Garnier.
That could be a blow for NYSE Euronext, which stands to lose out on IPO and trading fees going to the Hong Kong bourse operator. Euronext's last significant IPO was PPR's (PRTP.PA) spin-off of Africa-focused retailer CFAO (CFAO.PA) in December.
The listing would be a boost for Hong Kong Exchanges and Clearing (0388.HK), which faces a slowing pipeline of IPOs from mainland China and is looking to attract listings from overseas markets.
Earlier this month, London-listed insurer Prudential (PRU.L) said it wanted to list in Hong Kong to broaden the pool of investors who would take part in its planned $21 billion rights issue in May.
Last month, RUSAL 0586.HK, the world's largest aluminum firm, raised $2.2 billion in a Hong Kong IPO. RUSAL shares were listed both in Hong Kong and in Paris.
L'Occitane may choose Hong Kong instead of Paris because it believes it can achieve a better valuation of its shares in Asia, where consumer demand for high-priced brands has surged during the global downturn, bankers said.
L'Occitane has 1,257 outlets worldwide and exports the bulk of its sales outside Europe, with Asia Pacific accounting for about half of global sales.
"The growth drivers are over there. You get a better valuation, better multiples in Asia than in Europe," de Smedt said.
L'Occitane could seek multiples of 7-8 times earnings before interest, tax, depreciation and amortization, he estimated.
"I think it's a wonderful idea, the global size of IPOs in Chinese Asia in 2009 topped the size of IPOs in the United States, which should tell us something," said Francois Henrot, managing partner at Rothschild & Cie.
L'Occitane has been eyeing an Asian listing for a while. In 2008, it planned to float shares in Hong Kong to raise about $300 million, Reuters reported at the time, but the plan was postponed because of the volatile market.
A senior official for transatlantic exchange NYSE Euronext said earlier this month he hoped L'Occitane would also consider the possibility of listing in Europe if it decides on Hong Kong
"I hope their close consideration will include whether or not a listing on our European market as well as in the Hong Kong market also serves their interest," NYSE Euronext Executive Vice President and Head of International Listings Ronald Kent said.
Bryan Garnier's de Smedt said, however, that a dual listing would be "too expensive" for a small company with 2008 sales of 537 million euros ($722 million).
CLSA, HSBC (0005.HK) (HSBA.L) and UBS (UBSN.VX) are underwriting L'Occitane's deal, sources have told Reuters.
($1=.7439 EURO)
(Reporting by Julien Ponthus, Pascale Denis, Sudip Kar-Gupta and Astrid Wendlandt in Paris; Editing by Erica Billingham)
© Thomson Reuters 2022 All rights reserved.