French June consumer spending rise beats forecast
PARIS, July 22 (Reuters) - French shoppers splashed out on clothes and shoes in June, fuelling the largest rise in consumer spending since January in a sign the euro zone's second largest economy may be moving closer to recovery.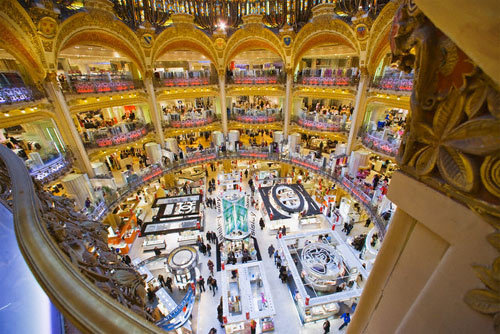 Galeries Lafayette, Paris
Economists said the data was good news because consumption accounts for over half of gross domestic product (GDP). However, they worry that rising unemployment will hurt consumer budgets later in the year.
Consumption of manufactured goods rose 1.4 percent month-on-month, national statistics office INSEE said. That was well in excess of a consensus forecast for 0.3 percent growth in spending and followed a 0.2 percent fall in May.
"These are very good figures," said Frederique Cerisier, economist at BNP Paribas.
"Overall they confirm that household spending will be a supporting factor (for growth) in France."
France has so far weathered the crisis better than many of its European neighbours, thanks largely to the resilience of household expenditure.
France's generous system of welfare payments, along with low inflation and government fiscal stimulus measures, have helped to protect shoppers' purchasing power.
June's INSEE data showed rises in nearly all the main components of the consumer spending index, with textile and leather goods in particular jumping 3.6 percent on the month and household goods rising 3.0 percent.
INSEE said data showed the summer sales had got off to a good start.
"The progression in textiles and leather in June shows generally that the start of the sales went well," said Fabrice Lenglart, who heads INSEE's national accounts department.
The sales started on June 24 this year, a day earlier than last year, but as this did not include an extra Saturday, he said it was unlikely to have had much of an impact on the data.
The car sector was the only one which declined, edging down 0.2 percent on the month, but this followed on from sharp increases in previous months due to the government's incentive scheme for scrapping used cars.
UNEMPLOYMENT WOES
In the wake of May's rebound in industrial output, the spending figures offer further support to the view that the decline in France has reached a bottom.
"In France, but also with our neighbours ... we are starting to see the decline stabilise," Economy Minister Christine Lagarde said on Tuesday 21 July.
According to a Reuters survey conducted at the start of this month, economists expect GDP to stabilise in the third quarter of the year, before moving into positive territory between October and December, with 0.1 percent growth.
But as unemployment continues to rise in the fallout from the financial crisis, many economists are now questioning whether consumer spending will prove resilient enough to sustain the recovery.
"I haven't had to make any serious sacrifices yet, but in the future I believe it's going to be necessary," said Catherine Francette, a 51-year-old shopper browsing upmarket Paris department story Galeries Lafayette.
Lagarde said in a statement on Wednesday (22 July) unemployment would continue to rise in months to come even with an improvement in the economy.
"We think that consumption is likely to be flat in the coming quarters, as the positives from falling inflation and the car subsidy will fade and the negative impact of worsening labour market conditions will come to the fore," said Joost Beaumont, economist at Fortis Bank.
These concerns are not just restricted to France. On Tuesday 21 July, U.S. Federal Reserve Chairman Ben Bernanke cautioned that unemployment was likely to remain high well into 2011, and said this could sap consumer confidence and potentially undermine what is already expected to be a very gradual turnaround.

(By Vicky Buffery. Additional reporting by Jasmine Singh, Anna Willard and Veronique Tison; Editing by Patrick Graham/Ruth Pitchford)
© Thomson Reuters 2023 All rights reserved.