Funky shoes and raincoats help Burberry weather storm
By Mark Potter
LONDON (Reuters) - Luxury goods group Burberry says its sales are holding up well in increasingly tough trading conditions, helped by demand for funky shoe styles and variations of its classic trench coat.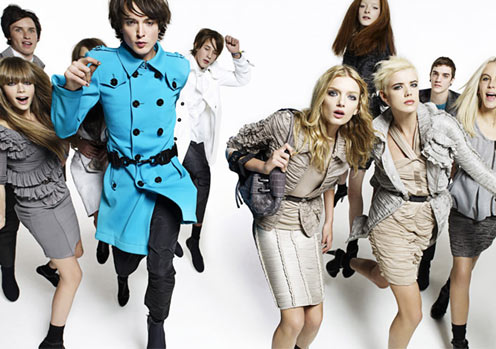 Burberry spring-summer 2008
The firm, best known for its camel, red and black check, beat forecasts on Tuesday with a 26 percent rise in first-quarter revenues.
But the out performance was due mainly to early shipments of Autumn/Winter ranges in its wholesale business, which the group said would even out in the months ahead.
Burberry, which began in 1856 and made its name equipping polar explorers, said sales at shops open at least a year rose 4.5 percent in the three months to June 30.
That was down from 6 percent in the fourth quarter, but Chief Financial Officer Stacey Cartwright said that excluding another weak performance from its Spanish business, first-quarter growth held at around the same level.
"Retail sales patterns remain volatile on a weekly basis, but we benefited from our geographic diversity," she told reporters on a conference call, adding sales were driven by demand from the United States, France, Germany and South Korea.
Burberry shares have lost around a fifth in value over the past month on fears a slowdown in consumer spending will hit sales, although luxury goods groups believe their wealthy customers are more immune to a downturn than others.
The British Retail Consortium underscored that trading in Britain remains tough, reporting a 0.4 percent annual fall in the value of like-for-like retail sales in June.
However, Sweden's Hennes & Mauritz , the world's third-biggest clothing retailer by sales, defied doomsters with an 8 percent rise in June sales.
JP Morgan analysts said they would keep their full-year forecasts for Burberry unchanged given tough trading conditions.
"Still, no change is better than what most could fear," they wrote in a research note.
FUNKY WELLIES
Burberry, which has 97 stores along with 245 concessions, 41 outlets and 80 stores operated under franchise, said first-quarter revenues rose 22 percent at constant exchange rates to 211 million pounds.
Forecasts ranged from 188 million to 204 million pounds in a Reuters poll of five analysts.
Cartwright said the group's classic trench coat continued to sell well, including new variations in lighter-weight fabrics and more fitted styles, and that shoes were also in demand.
"The funkiest and the most over the top as possible, that's what's really selling ... from the top of the pyramid to wellies," she said.
Sales in Britain, which account for less than 7 percent of the total, were "nicely positive," Cartwright added.
However, same-store sales in Spain plunged by a double-digit percentage. Cartwright said the group was taking steps to improve its performance in a difficult market by involving global product and marketing teams more closely in the business.
Wholesale revenues surged 43 percent at constant exchange rates, due largely to earlier shipments of Autumn/Winter ranges, and the group kept its forecast for wholesale revenue growth of an underlying 10 percent in the six months to Sept, 30.
Licensing revenues were up an underlying 3 percent.
Burberry shares, which have underperformed the DJ Stoxx personal and household goods index by 9 percent this year were down 0.9 percent at 393.5 pence by 9:30 a.m., valuing the firm at about 1.7 billion pounds.
(Editing by Quentin Bryar and Sue Thomas)
© Thomson Reuters 2023 All rights reserved.