Furniture designers braving crisis at Milan fair
By Marie-Louise Gumuchian
MILAN (Reuters Life!) - Anxious consumers may be keeping a tight grip on their wallets but designers at Milan's furniture fair are hopeful their sleek creations will be welcomed into homes worldwide despite the downturn.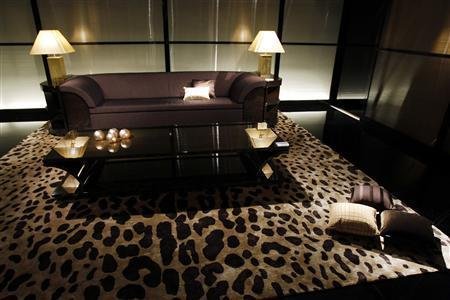 Showing pieces from the weird to the chic, the fair -- which calls itself "an antidote to the credit crunch" -- is hosting some 2,700 companies from around the world. Designers are parading decors like a fan that doubles as a small table, regal beds and wacky chairs.
"We are realists. We are not crying but we are responding to the crisis by working on production, offering high quality," said Manlio Armellini, chief executive of fair organizer Cosmit.
"2009 begun at quite a low level, there are signs of a small recovery ... Consumers are worried about the crisis but they more and more are wanting to redecorate parts of their home."
Sales of discretionary items such as furniture have been hit as spending slows. Italy's wood furnishings industry saw a steeper than expected 5.6 percent fall in sales last year to 37.5 billion euros ($49.43 billion), according to Cosmit.
Armellini said he could not give a forecast for the year but said the sector needed to work on exports, which fell 1.7 percent last year to just under 12 billion euros.
Milan, Italy's business capital, has been transformed during the fair as thousands of exhibitors, retailers, designers and reporters descend to see the latest in design. Organizers expect more than 300,000 people to visit the April 22-27 event.
Hopeful that contacts with interested viewers will transform into business, those exhibiting say the key to succeeding in the recession is creativity. "Innovation is right," said Luca Carlo Radice of sleek furniture designer Radice.
Claudio Luti, head of plastic chairmaker Kartell, said: "You need to concentrate, go ahead, invest ... don't act defeated."
Kartell celebrates its 60th birthday this year and new items include a "Ghost Buster" night table and "Fleur de November," a table with a central leg formed of six colored "petals."
"OBJECTS FOR THE AGE OF OBAMA"
With the economy hard enough for established firms, it can be even harder for young designers, who this year presented items such as a seat made out of paper rolls, a table that had ceramic teapots as a stand and a bamboo CD rack.
"It is difficult but it is also a moment to look at what the future of design is," Andrew Peerless, part of a group from the School of the Art Institute of Chicago, who presented a collection entitled "Objects for the age of Obama."
Their designs included a stool made of up belted newspapers -- with picture of U.S. President Barack Obama -- a wall notepad with a clock for a to-do list and a desk with a see-through table to enforce discipline.
Fashion houses have also put up their own displays this week and have not trimmed on the luxury.
Versace focused on crystal, used with a "wet platinum" finishing technique to give a chaise longue and lamp a luminous mirrored effect. "Of course we're not thinking of going backwards," Chief Executive Giancarlo Di Risio told Reuters when asked about the tough economic environment.
Its home design division closed 2008 with turnover of 75.9 million euros, up 9.3 percent.
At Giorgio Armani, designers sought a sensual line with lizard skin teamed with other materials for a sofa, chaise longue or writing table. Textiles were rich, liquid metal was applied for varnishings and curves replaced sharp edges.
Armani Casa recorded a retail turnover of more than 40 million euros last year, up 10 percent from the previous year.
It plans to open six new sale spaces this year, including a flagship store in Chengdu, China.
(Editing by Paul Casciato)
($1=.7592 Euro)
© Thomson Reuters 2023 All rights reserved.