Future in customization for masses
SILICON VALLEY (Reuters) - Venture capitalists are investing considerable sums in a new generation of retailers dedicated to making products exactly the way customers want them -- whether it's chocolate bars, beer steins or girls' clothing.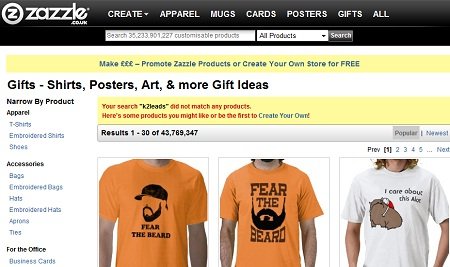 Zazzle.com- customization website
Picture a custom retailer, and the first vision that comes to mind is probably an exclusive boutique where skilled artisans cater to a small and wealthy clientele.
For custom products makers that have raised venture capital funding in recent years, however, such images are far from accurate. Combining Internet distribution models, social media marketing and supply chains sourced from several continents, a new generation of retailers is taking a mass-market approach to what has traditionally been a cottage business.
Venture capitalists believe these design-it-your-way companies are on to something. VCs have invested more than $244 million in 16 retailers and manufacturers of custom and personalized consumer goods, including $150 million in 10 of those companies in the last two years, according to Thomson Reuters, owner of Reuters.
Most are e-commerce plays, operating websites where users both design and purchase a product, as in Chocri, a Berlin-based seller of "customized chocolate bars" that allows customers to mix and match ingredients much as they might with toppings on a pizza. To help customers deal with the overabundance of choices, retailers are also incorporating social networking, as in the case of Infectious, a San Francisco-based site for making custom casings for iPhones and other devices.
For VCs, the appeal of such investments is less about tech than traction. What's noteworthy for customization plays recently is the speed at which many have grown -- and the revenue early entrants are generating.
One of the earlier venture capital recipients, Vistaprint (Nasdaq: VPRT), which raised $77 million in VC between 1997 and 2004, currently has a market capitalization around $1.65 billion. The company operates an e-commerce site where users can design and buy custom-printed business cards, books, T-shirts and other products. It went public in 2005 and posted revenue of $670 million in its fiscal year ended in June, a year-over-year increase of 30 percent.
'NORTH OF NINE FIGURES'
Another veteran company in the customization space is 11-year-old Zazzle, which is still private. The company is profitable and has an annual revenue run-rate that's "north of nine figures," according to Jason Kang, Zazzle's vice president of marketing. The Palo Alto, California-based company sells close to 40 different products, such as shirts, mugs and mouse pads that customers can adorn with their own photos and designs.
Even comparative newcomers are posting revenue approaching eight figures. Dallas-based J. Hilburn & Co., a 3-year-old custom dress shirtmaker, currently sells about 8,000 button-downs a month, according to co-founder Hil Davis. He expects the company's sales to roughly double next year.
Fans of customization companies say current run-rates represent just a taste of what's to come.
"This whole idea of using technology to enable real-world items to be created, I think, is just getting going," says Scott Johnson, a managing partner at New Atlantic Ventures and investor in Fashion Playtes, which runs a site where girls design clothes they can later purchase.
Johnson believes made-to-order items can now be cost-competitive with off-the-shelf items. With Fashion Playtes, for example, sewing to customer specifications adds to production costs, but the company makes up for it through its low-cost Internet distribution model. Over all, Johnson says, the customization costs roughly equate to the cost of supporting stores for a retailer like the
Gap
. That's important, he says, because although consumers value personalized products, most are reticent about paying a big premium.
"You don't want to be a luxury good," he says. "You want to be right there in the price point that a suburban mom feels comfortable paying."
© Thomson Reuters 2023 All rights reserved.