General Growth creditors, Simon attack Ackman
By Paritosh Bansal and Ilaina Jonas
NEW YORK (Reuters) - General Growth Properties Inc's (GGWPQ.PK) unsecured creditors and suitor Simon Property Group (SPG.N) on Tuesday 2 March criticized William Ackman's role in the mall owner's restructuring plan, alleging conflicts of interest given his position as a director and largest shareholder.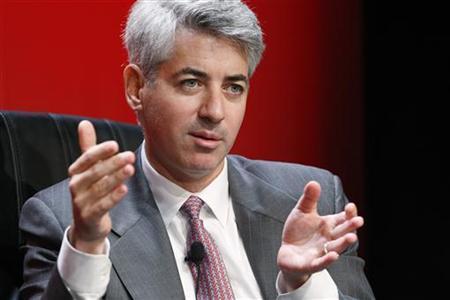 Ackman has backed a reorganization plan that calls for his Pershing Square Capital Management hedge fund to offer Brookfield Asset Management (BAMa.TO) certain protections in return for the Canadian firm financing General Growth's stand-alone exit from bankruptcy.
That proposal rivals a roughly $10 billion takeover offer by Simon, under which unsecured creditors, who hold about $7 billion of its debt, would get a full recovery of their claims in cash.
Under the Brookfield-backed plan, the form of their recovery -- cash or stock -- is not certain as it depends on General Growth raising up to $5.8 billion more.
The official committee of General Growth's unsecured creditors said in a court filing that the agreement between Pershing Square and Brookfield effectively restricts General Growth from considering alternative transactions because it puts the company into "an obvious conflict of interest situation."
"The Debtors must choose between the best interests of the estates and the economic interests of one of their most active and vocal directors," it added, referring to Ackman.
Simon, a General Growth creditor, also questioned the arrangement between Brookfield and Ackman's Pershing Square in a separate filing Tuesday 2 March.
Under General Growth's plan, Brookfield would receive seven-year warrants to purchase 60 million shares at an exercise price of $15 per share. Until the warrants are approved by the bankruptcy court, Pershing Square will provide interim protection.
Moreover, if General Growth completed a transaction with another party at more than $12.75 per share, Pershing Square would pay Brookfield a part of the profits from its own investment in General Growth.
Simon said those warrants were worth more than $300 million and these steps constituted deal protections for Brookfield and gave Ackman an interest in making sure that Brookfield's proposal is chosen over alternative transactions.
"Ackman, therefore, now has a unique and personal interest in making sure that Brookfield is approved as General Growth's stalking horse," Simon said. "General Growth is gambling with creditor recoveries at the behest of its most risk-hungry shareholders."
Ackman, an activist investor who controls a roughly 25 percent interest in the mall owner, has declined to comment on the bankruptcy battle and was not immediately available on Tuesday 2 March. General Growth was not available to comment.
The filings come as General Growth is set for a crucial hearing on Wednesday 3 March in bankruptcy court, where it is seeking a six-month extension of the period when it has an exclusive right to file a reorganization plan.
After a bankruptcy court conference on Monday 1 March, some parties came away feeling that the judge is likely to extend that period, although it was not clear by how much, a source familiar with the situation said, declining to be identified because these talks are not public.
The creditors' committee, while objecting to an extension, said that should the judge decide to do so, 45 days would be a more appropriate period.
"The 45-day mark is a natural break-point for this court and all stakeholders to assess whether the process the debtors propose to run is truly taking place on a level playing field," it said.
General Growth, which owns more than 200 malls, became the largest U.S. real estate failure in history when it filed for bankruptcy in April last year. Its properties include such malls as Fashion Show in Las Vegas, Ala Moana Center in Hawaii and Faneuil Hall Marketplace in Boston.
Simon Property Chief Executive David Simon said General Growth had not given his company any information despite their signing a nondisclosure agreement last week.
In its filing, Simon Property said the exclusivity period should be allowed to expire "so that stakeholders can decide for themselves between Simon's fully financed proposal and the potential recapitalization supported by Brookfield and Ackman."
The case is In re: General Growth Properties, Inc et al, U.S. Bankruptcy Court, Southern District of New York, No. 09-11977.
(Reporting by Paritosh Bansal and Ilaina Jonas, additional reporting by Dan Wilchins; Editing by Phil Berlowitz)
© Thomson Reuters 2023 All rights reserved.