General Growth shares up as Pershing fights bears
By Ilaina Jonas

NEW YORK, Dec 22 (Reuters) - Shares of General Growth Properties Inc (GGWPQ.PK) rose nearly 20 percent after its largest shareholder issued a rebuttal to Hovde Capital Advisors LLC, which had said the U.S. mall owner was overvalued.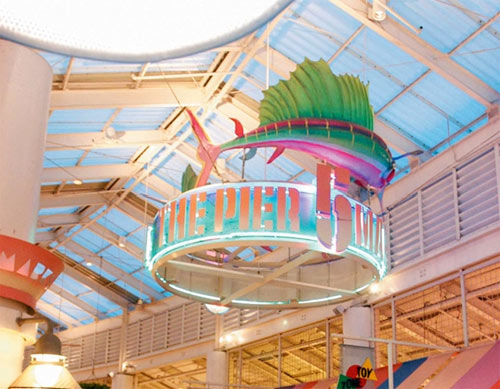 Bayside Marketplace in Miami, Florida - A General Growth Properties Inc mall - Photo: www.baysidemarketplace.com
William Ackman's Pershing Square Capital remains convinced that, upon emergence from bankruptcy, General Growth's shares have value.
Last week its shares fell after hedge fund manager Eric Hovde, who oversees about $1 billion of financial and real estate investments, said he was shorting General Growth.
Because of the dramatic decline in consumer spending and plummeting prices for commercial properties, the 200 malls and other properties owned by General Growth were worth less than the associated debt, Hovde argued in a 38-page analysis entitled "Fool's Gold."
The stock lost 9 percent to close at $9.83 on Dec. 15, the day after Hovde issued his report.
But Pershing argued on Tuesday 22 December that the stock is worth between $24 and $43 per share if the company's master planned community business is stripped away.
Pershing said unsecured creditors will be entitled to receive no more than the face value of their bonds plus interest.
Also on Tuesday 22 December a judge overseeing the bankruptcy of mall operator General Growth Properties approved a plan that would release seven more properties from Chapter 11 bankruptcy protection and pave the way for the company to focus on emerging from bankruptcy next year.
Shares of General Growth closed up 19.67 percent, or $1.80, at $10.95 on Tuesday 22 December.
PERSHING VERSUS HOVDE
Chicago-based General Growth owns or has an interest in more than 200 malls, including Fashion Show in Las Vegas, Ala Moana Center in Hawaii, and Faneuil Hall Marketplace in Boston.
It became the biggest real estate failure in U.S. history when it filed for bankruptcy protection in April after the credit crisis dried up sources of loans to cover maturing debt.
Hovde had argued that U.S malls were dying.
Not so, countered Pershing, saying that although the U.S. consumer has been hit hard by the recession, high unemployment and lower housing values, the downturn is not permanent.
Among other things, Pershing said that Hovde incorrectly calculated net operating income, which goes to the heart of valuing commercial property. Pershing said Hovde omitted some income, such as termination fees and included others such as leasing commissions, which are not typically a factor.
Pershing also took aim at Hovde's assumption that General Growth's cash flows have declined 27 percent since the fourth quarter 2008, saying Hovde included non-cash item expenses as well as bankruptcy costs. In addition, Hovde did not factor in that General Growth will be relieved of much of its unsecured debt costs, assuming the mall operator converts the debt into equity as part of the plan to emerge from bankruptcy.
Simon Property Group Inc (SPG.N), the largest U.S. mall owner and global property investor Brookfield Asset Management (BAMa.TO) have expressed interest in General Growth.
The company has said it prefers to emerge as a stand-alone company and has until February an exclusive right to file a plan of reorganization.
Judge Allan Gropper on Tuesday 22 December confirmed the plan between the No. 2 U.S. mall operator and creditors to extend $1.3 billion of loans on the properties. This comes on top of last week's hearing, in which Gropper approved the restructuring of $10.25 billion of loans, covering 103 properties.
The company is working to restructure the last $3.35 billion of its $14.9 billion in property level debt. With the property-associated debt restructured, those entities could emerge from bankruptcy within a couple of months.
The company's board is continuing to evaluate alternatives, including a public offering of General Growth equity, to reduce overall leverage and raise the capital necessary to emerge from bankruptcy in 2010.
General Growth also has about $7 billion in corporate-level unsecured debt. The company is considering converting corporate level debt into equity, an often-used bankruptcy resolution. (Reporting by Ilaina Jonas and Chelsea Emery; Editing by Tim Dobbyn)
© Thomson Reuters 2023 All rights reserved.