General Growth wins nearly 5-month extension
By Ilaina Jonas and Paritosh Bansal
NEW YORK, March 3 (Reuters) - U.S. mall operator General Growth Properties on Wednesday 3 March won a nearly five-month extension of the exclusive right to present a plan to exit bankruptcy, a setback for some creditors and suitor Simon Property Group.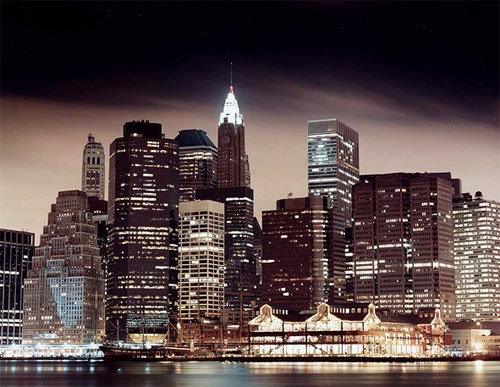 South Street Seaport, New York - one of the malls owned by General Growth Properties
"We're very satisfied," General Growth President and Chief Operating Officer Tom Nolan said. "This is going to allow us to move forward."
Following an all-day hearing, U.S. bankruptcy Judge Allan Gropper extended General Growth's right of exclusivity to July 15, pleasing the company's bankruptcy lawyer, who said she could now go to Rome with her husband. The time was about a month less than the company had requested.
It was a blow to Simon, which had initially argued against any extension and then joined General Growth's unsecured creditors committee, saying it could live with a 45-day extension.
Simon (SPG.N), the largest U.S. mall owner, has offered to buy General Growth (GGWPQ.PK) for $10 billion, under a plan that has drawn the support of GGP's unsecured creditors. The extension could pressure Simon to raise what has been called a low-ball bid if it wants the company.
"We appreciate the court's decision to shorten the exclusivity period requested by General Growth," Simon said in a statement. "Today we have been permitted to commence due diligence, and we will determine our best course of action as we move forward."
Michael Stamer, the attorney representing the creditors committee, declined to comment after the hearing.
For its part, General Growth has proposed a plan backed by Brookfield Asset Management (BAMa.TO) to emerge from bankruptcy as a stand-alone entity. That plan would be a "stalking horse" -- a bottom offer that others would have to beat if they want to buy the company.
"This doesn't tilt it in (Simon's) favor or in Brookfield's favor," the judge said, adding that the extension gives both parties and others interested in submitting a bid time to complete due diligence, formulate an offer, obtain financing and submit bids.
So far none of the plans floated is definitive.
General Growth plans to raise billions of dollars by selling stock. The extension gives the company's investment banker, UBS Securities LLC, time to meet with REIT investors who would want to buy newly issued General Growth shares but are barred because they either cannot invest in a bankrupt company or they cannot invest in a REIT that is not traded on a national stock exchange. A REIT is a real estate investment trust.
The latter obstacle could disappear at the end of the week when General Growth returns to the New York Stock Exchange under its former ticker symbol, GGP. As for the bankruptcy hurdle, UBS said it would sell notes to REIT investors that would convert into General Growth shares when the company emerges from bankruptcy.
Earlier in the day, Nolan said at a packed bankruptcy court hearing in Manhattan that the company is "anxious to present the new GGP" and plans to be out soliciting bids in the next 60 days.
Activist investor William Ackman, who is General Growth's largest shareholder and a director and has less than $500 million of its bonds, was also present at the hearing, sitting front and center next to Nolan, who was next to General Growth Chief Executive Adam Metz.
OPENING THE BOOKS
Simon has complained that General Growth has not been forthcoming with the information necessary for a formal bid.
But on Wednesday (3 March) morning GGP opened up its data room to give suitors access to information about it, said General Growth's lawyer, Marcia Goldstein of Weil, Gotshal & Manges.
"The data room is open and there are nine representatives from Simon in it," she said of the website that gives parties access to the company's financial records, including rent and lease terms.
About four or five other property owners and potential investors have signed nondisclosure agreements, Nolan said.
General Growth also said it had restructured $11.6 billion of $14.9 billion of property-related debt, and was close to working out a deal covering 24 loans totaling $1.5 billion. Potential investors began contacting the company as it made progress renegotiating it mortgages and other property-level debt, Nolan said.
The company, which owns more than 200 malls, became the largest U.S. real estate failure in history when it filed for bankruptcy in April last year. Its properties include such malls as Fashion Show in Las Vegas, Ala Moana Center in Hawaii and Faneuil Hall Marketplace in Boston.
The Chicago-based company is pursuing a complex plan that calls for Brookfield to kick in $2.65 billion of cash. Brookfield is considering China Investment Corp, the $300 billion sovereign wealth fund, as a potential partner, a source familiar with the deal said.
A Brookfield representative was not available for comment.
Nolan acknowledged that Brookfield, which has not signed a definitive agreement, is not compelled to come up with the cash if General Growth fails to raise an additional $5.8 billion through sales of equity, debt and some of its assets.
General Growth's shares were up 2.1 percent at $13.49 in over-the-counter trade. Simon shares closed down 0.7 percent at $77.46 on the New York Stock Exchange.
The case is In re: General Growth Properties Inc, U.S. Bankruptcy Court, Southern District of New York, No. 09-11977. (Reporting by Ilaina Jonas; writing by Paritosh Bansal; Editing by Tim Dobbyn, Matthew Lewis and Steve Orlofsky) (For more M&A news and our DealZone blog, go to www.reuters.com/deals)
© Thomson Reuters 2023 All rights reserved.