Glamorous Valentino targets new, less rich client
MILAN (Reuters) - Italy's Valentino, whose founder dressed the Hollywood set and European royalty, wants to make the luxurious brand accessible to the more price-conscious consumer, the group CEO said on Friday.
Founding designer Valentino Garavani, who retired in January after the group was bought by private equity firm Permira last year, became a byword for glamour during the nearly half-century he dressed the rich and beautiful.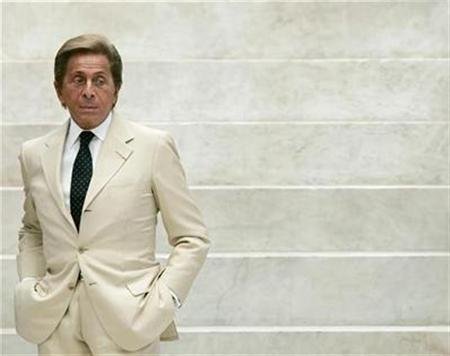 His trademark red evening gowns and sleek black and white outfits were aimed at the stylish wealthy who attend chic luncheons and gala dinners.
"We want to open up the brand to a different consumer," Stefano Sassi, CEO of Valentino Fashion Group which includes Valentino and Hugo Boss, told a meeting of foreign reporters.
"With respect to a clientele that is traditionally richer and not very price-sensitive ... We want to open up to a more modern, also more international, more price-conscious consumer."
Valentino has followed many fashion groups in brand extension and launched a watch collection in April.
"Our strategy is aimed at keeping Valentino at the same level it was put on by (its founders)," he said.
"The excellence of Valentino cannot only be in haute couture and pret-a-porter. It also has to be in ... perfume, a watch."
Despite fears for a slowdown in spending for premium items, Sassi said "things were not going badly" for Valentino. It had sales of 261 million euros ($403.5 million) last year, up 9.6 per percent. It closed the first quarter of this year with a 13 percent increase in turnover, Sassi said.
Valentino Fashion Group saw sales rise over 9 percent to 2.1 billion euros last year. Italian designer Giorgio Armani saw consolidated sales rise 8 percent to 1.6 billion euros last year and expects growth this year despite a credit crunch.
"I think we are going against the tendency in Japan, we are growing a little while the rest of the market is suffering."
"In Asia, the market is doing splendidly for us. In the United States, it is going well. Sadly, 'going well' in the U.S. gets eaten up by the exchange rate," he added.
The group has been hurt by dollar weakness against the euro and Sassi said it could "touch up" prices to soften the effect.
Valentino is looking to open new stores, and Sassi cited China, India, Europe and U.S. as locations.
Former Gucci designer Alessandra Facchinetti, who replaced Garavani, presented her first collection in February, not straying far from the path that made Valentino a red-carpet favorite for women like Elizabeth Taylor and Julia Roberts.
"We are very satisfied," Sassi said.
"We had a collection that had press and buyers' approval. We made an important move forward from a stylistic point of view, but without losing our past. I think it is a good result."
© Thomson Reuters 2023 All rights reserved.