Glamour and glitz prevail on London catwalks
LONDON | Mon Sep 19, 2011 - With inspiration ranging from the yachts of the super rich to tropical beach colours, designers at London Fashion Week are seeking to ride out the tough economic times with creations that stand out and sparkle.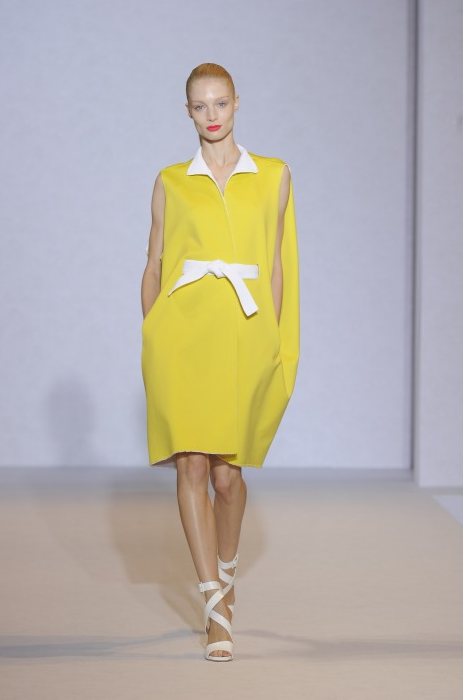 Nicole Fahri - SS 12 / Photo: Pixel Formula
An array of colours and bold prints have prevailed on the catwalk since London Fashion Week began on Friday. Fashion theory may state that when times get tough hemlines drop but several names showcasing their designs for spring/summer 2012 have kept skirts short and dresses tightly fitted.
Designer Julien Macdonald said he was taking his clients on a journey from the yachts of Saint Tropez and Monte Carlo to China and Japan, with a collection filled with Asian print designs and embellished evening and cocktail dresses.
With their hair tightly gelled back, models wore white tuxedo jackets, metallic belts and waistcoat dresses, accessorised with Porsche-designed sunglasses and military caps.
"The collection is exclusive, it's very expensive. Only the richest people in the world can afford to buy it," he said.
Macdonald, known for luxury designs which usually sell for hundreds of dollars, often hosts more than 400 people at his shows but this year picked a smaller, more intimate setting.
"I just invited the best. I said no to 550 very upset people," he said. "The recession affects every designer. People just want special things ... If you've spent the money on the clothes, you want to look a billion dollars."
At London Fashion Week, which runs until September 21, dozens of British and international designers are showing their lines, eager to entice cash-strapped buyers with their collections.
RIO IN LONDON
At Issa London, tropical colours, flirty dresses and luxurious katfans set the catwalk alight, as Brazilian designer Daniela Helayel brought Rio de Janeiro's Ipanema beach to the British capital. One model ended the show dressed as a samba dancer with an embellished corset and crown of feathers.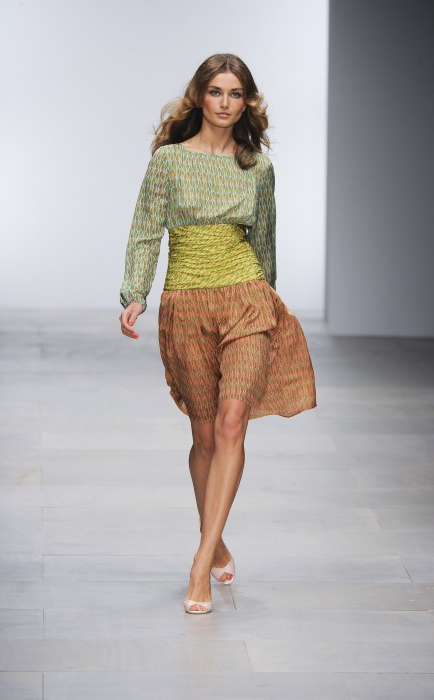 Issa London - SS 12 / Photo: Pixel Formula
The brand was thrust into the spotlight when Kate Middleton wore a blue Issa dress to announce her engagement to Britain's Prince William last year. The dress sold out within 24 hours.
"If you have a good dress, you know a dress that makes you feel good, it's the only thing that lifts up your mood; so good dresses will always be in demand," Helayel told Reuters.
On Sunday, Mulberry, known for its expensive handbags, hit the beach for next summer with a seaside and pier rides inspired palette of colours and animal prints collection presented among giant ice cream cones and hundreds of animal balloons.
Inspired by the British summer, creative director Emma Hill sent out models in waterproof macs over beach dresses with drawstring waists or brightly coloured encrusted gemstones.
Dogs were also in mind with specially designed shiny macs, modelled by one pooch on the catwalk.
"The season's signature prints are bright enough to banish grey skies!" Mulberry said in a release.
Celebrities have also been adding to the glamorous touch with model Kate Moss and actress Kristen Stewart on the front row at Mulberry, and actress Pamela Anderson and artist Tracey Emin at Vivienne Westwood's Red Label show.
Red Label is Westwood's more affordable line, and she showed cardigans worn as belted dresses, oversized shirts, tailored suits, holographic cocktail dresses and a show-stopping red gown. Big hair and bold makeup added the final touches.
"What we're doing is just making women look great because we're offering them so much choice, they really can choose what suits them," Westwood told Reuters backstage after the show, as champagne corks popped at a makeshift bar behind her.
"It's always sexy, fashion is here to help, that's what we're here to do. It's a life enhancing experience."
(Additional reporting by Basmah Fahim; Editing by Sophie Hares)
© Thomson Reuters 2023 All rights reserved.