Gold firms ahead of Fed meeting
(Reuters) - Gold rose on Monday as uncertainty hit the market ahead of a U.S. Federal Reserve policy meeting this week, with soft economic data sparking speculation that the Fed may announce additional monetary easing measures.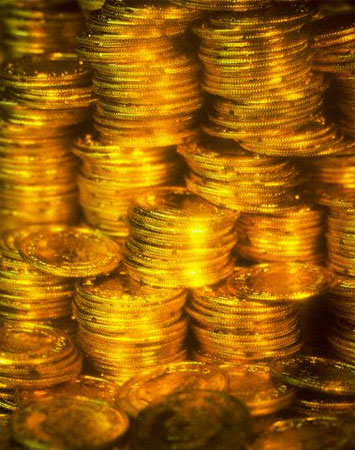 Photo : Corbis
Spot gold was bid at $1,206.95 an ounce at 1135 GMT (7:35 a.m. EDT), against $1,203.30 late in New York on Friday. U.S. gold futures for December delivery rose $4.30 an ounce to $1,209.80.
The metal broke above the $1,200 an ounce level to hit its highest since mid July last week after weaker-than-expected U.S. payrolls data fueled concerns over the outlook for the U.S. economy, knocking the dollar.
Lingering concerns that economic weakness will feed through into volatility in other asset classes is supporting interest in gold from longer-term investors, analysts said.
"The move up that occurred last week was funds coming into the market," said Peter Hillyard, head of metals sales at
ANZ
. "Funds were taking the view that all manner of things, including the U.S. economy (would support gold)."
"They were taking a long view, and the long view is that gold is going higher," he added.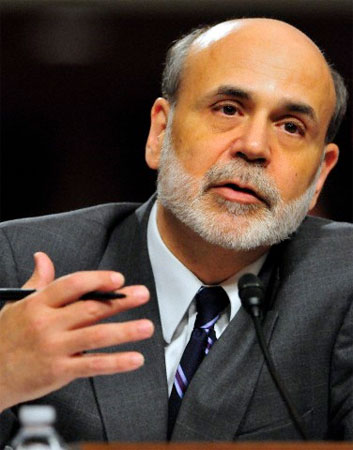 Federal Reserve Chairman Ben Bernanke July 21 2010, Washington, U.S.A
Expectations that the dollar, which historically has a close inverse correlation with gold, will weaken further are also supporting the metal. The U.S. unit was on the defensive against major currencies on Monday.
A spate of soft U.S. economic data has led to talk that the Fed may announce some kind of additional monetary easing, such as bond purchases, after its meeting on Tuesday.
The central bank is expected to renew its vow to keep rates near zero for an extended period.
"In one of the most awaited FOMC meetings for some time, markets generally anticipate either a change in the Fed's language or a move toward additional asset purchases," said
UBS
analyst Edel Tully in a note, though she added that such a view was not supported by her bank.
She said, however: "Given that gold continues to divorce itself from the dollar, any nod toward QE2 should be positive for the yellow metal."
STOCKS EDGE UP
On the wider markets, European shares climbed on Monday, while world stocks edged up toward last week's three-month peak. Oil rose above $81 a barrel.
Rising gold prices translated into a fall-off in physical demand from Indian buyers, however. Buying retreated on Monday after a firm two weeks, traders reported.
"Prices will have to come down below $1,200 and rupee will have to appreciate below 46 for demand to pick up again," said a dealer with an Indian private bank.
Among other precious metals, silver was bid at $18.47 an ounce against $18.31, while platinum was at $1,551 an ounce against $1,563.25 and palladium was at $482.20 an ounce versus $484.05.
The ratio of gold to platinum -- or how many gold ounces are needed to buy an ounce of platinum -- fell to a two-week low of 1.29 on Monday, meaning the yellow metal is becoming increasingly expensive compared to platinum.
Appetite for platinum group metals, which are widely used in car manufacturing, has been tempered by relatively soft auto sales data. Data showed Chinese car sales rose at their slowest in 15 months in July as the world's largest auto market cooled.
"While platinum group metals remain under pressure on a lack of follow-through buying from last month's strength, gold could continue to be supported by a weaker dollar," said
Morgan Stanley
in a note.
(Reporting by Jan Harvey; Editing by Alison Birrane)
© Thomson Reuters 2023 All rights reserved.