Gold jewellery demand in India strong in 2011
May 22 - Gold jewellery demand in India, the world's biggest market, will likely remain strong in 2011 despite surging prices, the head of Gitanjali Gems, the country's biggest jewellery retailer, said.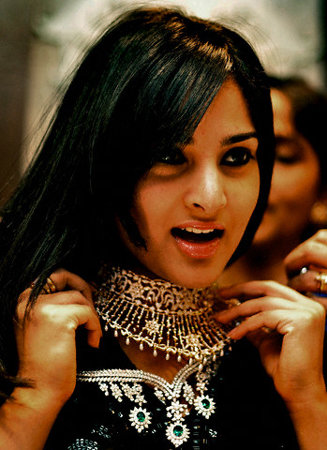 South Indian actress Ramya, poses for a photograph with gold necklace (Photo: Corbis)
"Despite the price increases in the past two years ... there is still hunger for gold (in India) ... Demand in volumes in still very strong," managing director Mehul Choksi told Reuters in an interview on Sunday at an international jewellery fair.
Gold jewellery demand rose 12 percent to 206 tonnes in India in the first quarter and was a major driver behind a 7 percent rise in global jewellery demand in the period, according to the World Gold Council.
Some analysts have doubted such growth would be sustainable, with gold hitting a fresh record at $1,575 an ounce this month.
Choksi confirmed his company's target to raise sales to about $2 billion this year from $1.55 billion in 2010.
Choksi declined to comment on reports that
L Capital
, the investment firm co-funded by French luxury group
LVMH
, was in talks to buy a stake in Gitanjali to get control of the company's branded jewellery and retail business.
He said his company aimed to complete restructuring of its business into 5 segments -- manufacturing, brands, retail in India and Asia, international retail and infrastructure projects -- by the end of June or in July.
Gitanjali said in February global players and private equity funds had shown interest in it.
ITALIAN PLANS
Gitanjali, which earlier this year bought four Italian jewellery jewellers -- Stefan Hafner, IO Si, Porrati and Nouvelle Bague -- to raise the number of Italian brands in its portfolio to six, may continue its shopping spree in Italy.
"There are some interesting companies in a different product line. There are some nice brands around which could complement our existing portfolio, " Choksi said.
Choksi said Gitanjali would continue to use the Italian brands it has acquired -- ranging from a diamond-rich Stefan Hafner with price tags of up to 300,000 euros ($425,000) to a colourful enameled gold and diamond Nouvelle Bague with prices in a 1,200-10,000 euros range.
Gitanjali will also keep the design and production facilities of the companies in Italy, Choksi said, responding to concerns in Italy that production could be shifted to lower-cost India.
The company plans to invest 10-15 million euros "at an initial stage" promoting the Italian brands on world markets and expects to add 100-150 million to group revenues in 2013 from its Italian assets, he said.
Gitanjali also aims to open single and multi-brand shops for those companies and a few top Indian and U.S. jewellery brands it owns in the most prestigious markets in London, New York and Paris, he said.
By Svetlana Kovalyova
(Editing by Dan Lalor)
© Thomson Reuters 2023 All rights reserved.