Graff eyes HK IPO to add sparkle, speed growth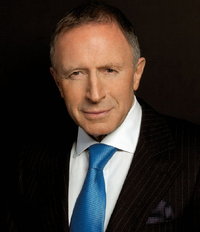 Laurence Graff
HONG KONG - London-based jeweller Graff hopes a planned Hong Kong IPO will bolster its position in a fast-changing diamond industry and give it financial clout to expand into Asian and other major cities, said its 73-year-old founder and chairman.
The privately-held diamond and precious gems firm founded by Laurence Graff in 1960 has found it tough to compete with large, well funded brands on a global scale to secure coveted retail locations due to their ample cash flows and business support.
Graff, known for its giant gems and rare diamonds, has a solid client base worldwide, but wants extra capital to open stores in prized locations and build up its inventory base to keep up with a growing pool of customers, particularly in Asia.
The company's stock listing, seen next year, is expected to raise $1 billion, according to banking sources.
"Unless you are a certain size you haven't got a chance," Graff told Reuters at his flagship Hong Kong store in the Peninsula Hotel.
"Competition, in time, is going to be less and less because you have to be a giant in the industry to support the stocks that you have, support these high rentals, support new design, new effort and to be able to experiment in new countries," he said.
Born to Jewish immigrant parents in London, Graff has kept control of the jewellery firm since its beginning, attracting a host of clients, including royals and celebrities such as the sultan of Brunei, Oprah Winfrey and Imelda Marcos.
A Hong Kong initial public offering would help put Graff closer to its fastest growing market, China, and develop elsewhere in Asia. Sales are currently split equally between the United States, Europe and Asia.
An IPO would also boost Graff's financial muscle and put it on a par with publicly traded luxury goods and jewellery rivals such as Richemont (CFR.VX), LVMH (LVMH.PA) and Tiffany's (TIF.N).
"It's a very expensive business. Therefore, if he wants to go faster, he needs large financial support," said Eric Valdieu, fund manager at Divine Jewels, a sub-fund of Luxembourg-based Elite Exclusive Collection, which invests in luxury goods.
The company plans to open two new stores in China next year, one in Macau's glitzy gambling enclave at Wynn Macau (1128.HK) casino and another in Hangzhou, an affluent city one hour from Shanghai by train.
CLSA Asia Pacific Markets estimates Greater Chinese demand will account for 44 percent of the global luxury goods market by 2020. China, the world's No.2 economy, will account for 16 percent of global diamond demand by 2016, up from 6 percent in 2009, CLSA said, citing estimates from De Beers.
Graff, one of Britain's richest men and worth close to $3 billion according to Forbes, expects the firm's Asia growth will continue to accelerate much faster than in other regions.
Sales in the United States and Europe are still going well despite the economic uncertainty. Graff's super-wealthy clients are comparatively immune to any global slowdown.
Graff remains bullish on the outlook for the diamond industry, particularly for larger quality diamonds, although prices may dip slightly in the near term.
"I think prices of large quality diamonds will get stronger and stronger because there is a limited amount of them," he said.
GLITTERING ASIA
Graff tells the story of being marched, by his mother, up the stairs of a London jeweller to work as a teenage apprentice. When that business went under, he set up in partnership with an older man in the business, who left not long afterward.
Graff initially focussed on jewellery repair because the business had no capital to buy diamonds.
Established in the industry by the age of 24, his global empire only took off during a visit to Singapore a few years later, when he saw one of his UK counterparts needed jewellery to fill a new store. Visits to Hong Kong and the rest of Asia followed.
"I remember coming to Hong Kong with my little bag of samples in my old wholesale days, and going round the stores and not speaking a word of Chinese. Most of the stores were Chinese owned, there was no branding, there were no superstores."
The Englishman has come a long way since fixing rings.
In a move intended to dazzle customers at the Hong Kong showroom, Graff has flown in three 100-carat diamonds. The pear-shaped Flame, circular Constellation and the octagonal Star of America are on display behind large glass windows and closely watched by suited bodyguards.
Luxury brands are increasingly eager to tap Hong Kong as an IPO destination to cash in on the strength of the Chinese consumer.
Italian fashion house Prada (1913.HK) listed earlier this year. Chow Tai Fook Jewellery Group, controlled by Hong Kong billionaire tycoon Cheng Yu-tung, has started pre-marketing for a $3 billion Hong Kong IPO, and U.S. luxury goods maker Coach Inc is expected to go ahead with plans for a secondary listing by the year-end.
Graff currently owns a 15.2 percent stake in Gem Diamonds (GEMD.L), a publicly traded mining company. His fully integrated diamond firm includes a retail empire of 32 stores from Taipei to New York, and manufacturing operations in Antwerp, New York, Botswana and Johannesburg.
By Farah Master and Elzio Barreto
(Additional reporting by Michael Flaherty; Editing by Jonathan Hopfner and Ian Geoghegan)
© Thomson Reuters 2023 All rights reserved.