Health and beauty retail in Europe
Research and Markets has announced the addition of the "Health and Beauty Retail in Europe: Market Size, Retailer Strategies and Competitor Performance" report to their offering.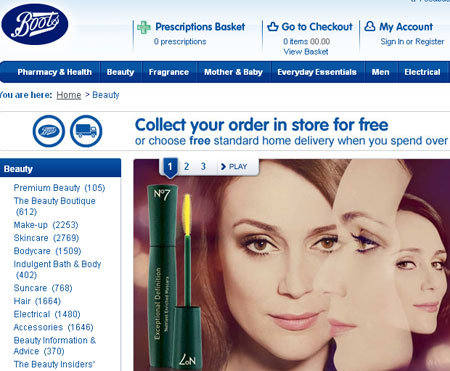 Boots.com, Britains leading name in health & beauty for over 160 years
Health & beauty has been one of the more resilient retail sectors during the recession. However, we estimate that the EU health & beauty market declined by 0.7% in 2009 as the recession propelled the private label trend in personal care goods. In response to the challenging trading environment retailers have focused on developing new strategies to drive footfall to their stores.
Scope:
* Key health & beauty statistics for the EU27 including sector expenditure, specialist sales, stores and retail space data.
* Dedicated chapters on CEE and the five core European markets examining developments in areas such a legislation, consumer demands and the retailer mix.
* Consumer and competitor trends surrounding issues such as premium products, private labels, e-retail and new competition, including fashion multiples.
* Comprehensive profiles of AS Watson, Schlecker,
Boots
, dm-drogerie, Rossmann and
Douglas
, detailing key operational metrics and strategic developments.
Highlights
The value of the EU health & beauty market fell by 0.7% in 2009 as the recession propelled the private label trend, reducing the overall value of sales.
Relatively robust growth from countries such as Poland and the Czech Republic was not enough to offset more severe declines in Spain and the Baltics.
Health & beauty specialists have been responding by investing in category and service diversification. This includes boosting loyalty schemes and targeting new customers, such as the male population. Furthermore specialists sales have been aided significantly by higher revenues from prescriptions.
Hong Kong based AS Watson, owner of Superdrug, Drogas, Watson's, Kruidvat and Trekpleister, maintains its leading position as the largest health & beauty retailer in Europe. Following a series of acquisitions the company has considerably boosted its share of the EU health & beauty market from 1.2% in 2002 to an estimated 5.8% in 2009.
Reasons to Purchase:
* Make informed investment decisions by understanding the size of EU health & beauty sector and the activities of its new and established retailers.
* Understand the dynamics of the market and which product categories, services and consumer segments will produce further market share gains.
* Develop innovative strategies to enhance your retail proposition in areas such as in-store services, private label product development and e-retail.
Please visit Research and Markets for the full report.
Copyright © 2023 FashionNetwork.com All rights reserved.