HK menswear group Trinity sees slower sales growth in China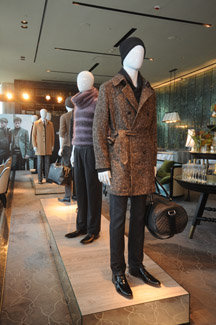 Trinity also represent Cerruti in China
HONG KONG - High-end menswear retailer
Trinity
Ltd, which posted a 50 percent rise in 2011 profit on strong appetite for luxury products in China, sees slower sales growth in 2012 amid global uncertainty, but will maintain its pace of network expansion.
Trinity, a partner of Italian luxury goods maker Salvatore Ferragamo in the region, expects a low-teen percentage growth in its same store sales for 2012 compared to its almost 20 percent growth over the past two years, said group managing director Sunny Wong.
"We see a slowdown in this (China luxury) market," Wong told Reuters in an interview on Wednesday. "We are targeting a low teen growth in term of same store and we will probably see a high single-digit same store sales growth in the first half."
Wong said the luxury retail market may suffer in the first half as economies in some high-growth export-oriented regions in China are affected by the uncertain global economy.
He said the market has shown signs of pick up in March and he is optimistic for the second half year on hopes that spending will rise as banks relax lending curbs, stimulus packages emerge and investments in infrastructure increase.
The "high-end menswear segment is in its infant stage of development and with so many strong brands under its umbrella, Trinity is set to have a lot of room for growth," said Elyse Wang, analyst at Haitong International Research.
Wong said the number of stores in China would exceed 400 in 2012, up from the current 370, with a net increase of 40-50 each year.
"I expect this growth rate will continue for another few years," he said. He said the company also faces challenge from rising costs for sales staff.
Shares of Trinity rose to HK$7 on Wednesday afternoon, their highest in five weeks. The stock was at HK$6.96 as at 0713 GMT, still up 8.1 percent, outpacing a 0.22 percent gain in the benchmark Hang Seng Index.

By Donny Kwok and Rachel Lee

(Editing by Matt Driskill)
© Thomson Reuters 2023 All rights reserved.