Hollywood legend Elizabeth Taylor dies at 79
Mar 23 - Legendary actress Elizabeth Taylor, whose violet eyes, tumultuous love life and passion for diamonds became a byword for Hollywood glamour, died on Wednesday at age 79.

The star of "Cleopatra" and "Who's Afraid of Virginia Woolf?" died at Cedars-Sinai Medical Centre in Los Angeles surrounded by her four children after a long battle with congestive heart failure, her spokeswoman said. She had been hospitalized six weeks ago.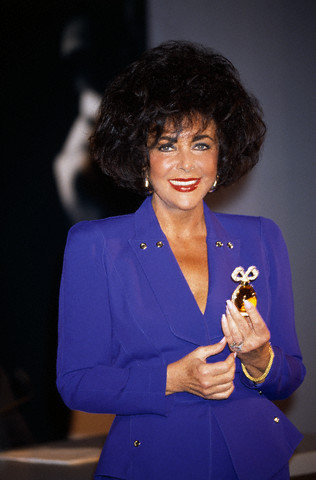 Elizabeth Taylor her perfume line "White Diamonds" in 1991
In a career spanning seven decades, Taylor first gained
fame
in 1944's "National Velvet" at age 12 and was nominated for five Oscars. She won the best actress award for "BUtterfield 8" (1960) and "Who's Afraid of Virginia Woolf?" (1966) with actor Richard
Burton
, whom she would marry twice.
But Taylor's eight marriages, health problems, prescription medication addiction and ballooning weight often overshadowed her career and her fund-raising efforts for AIDS research.
Her death triggered an outpouring of tributes. "My mother was an extraordinary woman who lived life to the fullest, with great passion, humour, and love," Taylor's son Michael Wilding said.

"We have just lost a Hollywood giant. More importantly we have lost an incredible human being," singer Elton John said in a statement.

Taylor was born on February 27, 1932, in London to American parents. She moved to the United States as a child and soon after her 10th birthday landed the lead in 1942 film "Lassie Come Home," followed by her turn as a young girl who tames the fury of a wild horse in "National Velvet."

She confirmed her star power in 1958 in Tennessee Williams' "Cat on a Hot Tin Roof" and cemented her reputation as among the greatest actresses of her generation playing a foul-mouthed alcoholic in "Who's Afraid of Virginia Woolf?"

GLAMOROUS HOLLYWOOD LIFE

But Taylor's fame went far beyond her screen life. After marriages to hotel magnate Conrad Hilton, British actor Michael Wilding and film producer Mike Todd, she found herself in a scandalous 1950s love triangle with singer Eddie Fisher and his wife actress Debbie Reynolds, before marrying Fisher.

While filming the lavish "Cleopatra" in Rome in 1961, she started a torrid affair with her married co-star Burton. The pair first wed in 1964 and Burton lavished her with furs and diamonds, including a $1 million pear-shaped jewel.

The actors also were famous for hurling invective at one another. "We enjoy fighting," Taylor once said. "Having an out-and-out, outrageous, ridiculous fight is one of the greatest exercises in marital togetherness."

As she grew older, the actress began drinking heavily and grew addicted to prescription drugs. Her weight ballooned and she was lampooned by comedians. In 1983 she entered the Betty Ford Centre in California for treatment.

In the last few years, the once legendary beauty took to using a wheelchair in public to cope with crippling back pain. Her last movie was the 1994 live action comedy "The Flintstones" but she was still making appearances at charity events before being hospitalized in February.

Yet her White Diamonds perfume remains a best seller almost 20 years after its 1991 introduction, cosmetics company Elizabeth Arden said on Wednesday.

She was first diagnosed with congestive heart failure in 2004. She also had three hip replacement operations, a benign brain tumour, skin cancer, pneumonia and heart surgery.

Flowers will be laid at her star on Hollywood's Walk of Fame later on Wednesday.

The American Foundation for AIDS Research, of which Taylor was founding national chairman, said she was "without doubt one of the most inspirational figures in the fight against AIDS. She was among the first to speak out on behalf of people living with HIV when others reacted with fear and often outright hostility."

Among Taylor's close friends was pop star Michael Jackson, whom she befriended while he was growing up and whom she staunchly defended as he was tried and acquitted on child molestation charges.

In May 2000, Taylor received the title "Dame," the female equivalent of a knighthood, from Queen Elizabeth.

She died surrounded by her children, Michael Wilding, Christopher Wilding, Liza Todd, and Maria Burton. In addition to her children, she is survived by 10 grandchildren and 4 great-grandchildren.

By Bob Tourtellotte
(Additional reporting by Daniel Trotta; editing by John Whitesides and Phil Barbara)
© Thomson Reuters 2022 All rights reserved.