Hotels, shopping malls come to South Africa's new Soweto
By Tabelo Timse (AFP)

SOWETO, South Africa — Giant black-and-white photos of a young Nelson Mandela smile across the broad halls of a four-star star hotel, looking over the dusty street market where he once hid from apartheid police.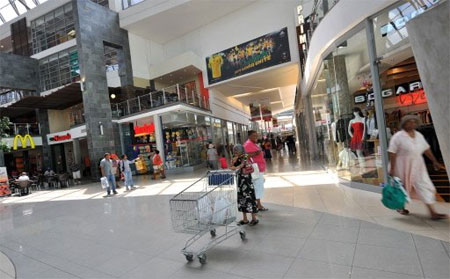 Photo: AFP
This is the new Soweto, a mix of upper-crust comforts and urban grit, where shopping malls and landscaped parks have sprung up among some of South Africa's most important landmarks of the struggle against white-minority rule.
It's a side of Johannesburg that residents hope World Cup visitors will venture out to see, where one third of the city's 3.8 million people live.
"In the past, you would be ashamed of saying you come from Soweto -- first of all because it was associated with crime... shantytowns and poverty. But now it has improved," said Frans Malotle, a 48-year-old businessman.
"People want to stay in the townships. Our B-and-B's are fully booked for the tournament," he said.
Soweto burst into headlines in 1976, when police fired on 10,000 students marching against apartheid, leaving 566 dead in the uprising that followed, becoming a symbol of the regime's brutality and a spark for international sanctions.
The image of burning tyres, violent protests and police brutality still colour perceptions of Soweto and South Africa's other townships.
The apartheid government, which ended in 1994 with the first all-race elections, created the townships as black-only residential neighbourhoods to provide labour for nearby industry or as domestic workers in white homes.
Soweto began in the 1930s as the South West Townships, separated from downtown Johannesburg by mine dumps and strips of empty land, an area now home to Soccer City, venue for the World Cup's opening and final matches.
Under apartheid, residents had scarce water supplies, few paved roads, inferior schools and were generally barred from opening businesses. Blacks couldn't buy land, but received 99-year leases.
When Mandela became the first black president in 1994, Soweto -- like much of South Africa -- was hit by a dramatic surge in violent crime.
New government investment has paved roads and expanded access to electricity and water. Private investors have created the Maponya Mall and the four-star Soweto Hotel on Freedom Square.
"Soweto has evolved as a township and now has become a city, because there is a mall, streets are tarred, crime level has come down. There is more respect among people," said Garth Klein, an urban planning expert from the University of the Witwatersrand.
"Before you had take two taxis to get to the closest mall, but as these malls mushroom, we can do shopping conveniently," said Tsakane Maringa, 29, as he strolled through the air-conditioned halls of Maponya Mall.
Now nine out of 10 Sowetans buy their goods locally, rather than travelling into the city for shopping, according to University of South Africa research.
Shacks and grinding poverty remain. But the growing black middle class has upgraded their original matchbox houses to sturdier brick homes, and even mansions like Winnie Madikizela-Mandela, the former president's ex-wife.
Government has built new public spaces like Thokoza Park, where a stream runs under willow trees and children swing on new playgrounds.
The Hector Peterson Museum memorialises the 1976 uprising, named for the 12-year-old boy who was the first to die.
While Johannesburg is definitely a city for driving, cars are still a luxury in Soweto, so neighbourhood streets are filled with pedestrians greeting neighbours over their fences.
It's that community spirit that Sowetans say is their real lure for visitors.
"People are so friendly, no one has braais (barbeque) and parties like people in Soweto," said 19-year-old Simphiwe Ngwena, who attends a private school downtown but chooses to keep living where she grew up.
"You don't need an invitation, you just rock up and say 'what's up'. We look out for each other."
Copyright © 2023 AFP. All rights reserved. All information displayed in this section (dispatches, photographs, logos) are protected by intellectual property rights owned by Agence France-Presse. As a consequence you may not copy, reproduce, modify, transmit, publish, display or in any way commercially exploit any of the contents of this section without the prior written consent of Agence France-Presses.