Hundreds sick in mass fainting at Cambodian factory
August 25 - Nearly 300 Cambodian workers fell sick this week at a garment factory producing goods for Swedish fashion brand Hennes & Mauritz AB (H&M), police said on Thursday.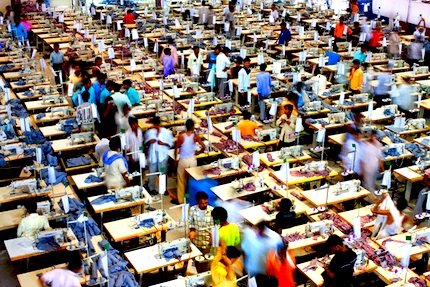 The "weak" health of workers in a textile factory. - photo: corbis
A total 284 workers collapsed on Tuesday and Thursday at M&V International Manufacturing Ltd, a supplier for H&M, in Kompong Chhnang province, 91 km (56 miles) from the capital Phnom Penh, police said. Some reported a pungent smell before fainting.
"Workers smelled something bad coming from the shirts," said 26-year-old Norn Leakhena, a worker at the factory.
Deputy provincial police chief Ly Virak blamed the mass faintings on the "weak" health of workers and said the factory suspended operations until next week to allow its 4,000 workers to rest.
He said 86 workers fell sick on Tuesday and another 198 collapsed on Thursday.
"When one worker collapsed, others also fell sick," he said.
H&M said it was investigating the faintings and said the government, local authorities and the U.N.'s International Labour Organisation had "not found any plausible causes so far."
"The root cause of the mass faintings is difficult to establish," Håcan Andersson, a H&M spokesman, said in an e-mailed statement.
In July, H&M said that it was consulting state agencies, workers and independent factory inspectors to find out what happened at a different factory in Phnom Penh after about 300 workers fell sick.
Some big Western brands have launched investigations into what non-governmental organisations say are more than 1,000 faintings this year by garment workers toiling for long hours on meagre salaries to help feed hundreds of thousands of poor rural families.
Among the big Western firms with clothing or other goods produced in Cambodia are Marks and Spencer Group Plc,
Tesco
Plc, Next Plc and
Inditex
, the world's biggest clothing retailer and owner of
Zara
.
A report in April by Reuters about a spate of illnesses at a factory producing footwear exclusively for
Puma
prompted the German sports brand to commission an independent inquiry by the Washington-based
Fair Labor Association
.
It concluded there was a "strong possibility" that an estimated 104 faintings over a two-day period were caused by exposure to chemicals, poor ventilation and exhaustion from excessive hours.
Following the report's release, Puma moved swiftly, producing a plan limiting working time at a factory employing 3,400 people to 60 hours per week and overtime to two hours daily.
The garment sector, Cambodia's-largest currency earner followed by agriculture and tourism, has been plagued by strikes and protests over working conditions and pay, several spiralling into clashes between the mostly female employees and riot police armed with guns and electric stun batons.
"In the beginning, the smell was fine but after years, workers can't take anymore," said Norn Leakhena at the M&V factory.
(Editing by Jason Szep and Sanjeev Miglani)
© Thomson Reuters 2022 All rights reserved.