Implats says Zimbabwe ownership talks "ongoing"
JOHANNESBURG, Sept 5 (Reuters) - Impala Platinum , the world's second-largest platinum producer, said on Monday it remained in talks with the Zimbabwe government about requirements to transfer a 51 percent stake in its Zimbabwe unit Zimplats to local blacks.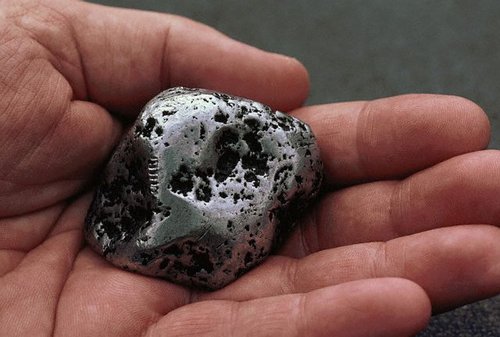 A platinum nugget
"Negotiations (are) ongoing," Implats' spokesman Bob Gilmour said in response to e-mailed questions from Reuters. Zimplats' proposals for compliance were rejected on Aug. 17 and it had been given 14 days then to offer a revised plan.
Several other mining companies also received such rejections last month, including Mimosa platinum mine owned by Aquarius , Rio Tinto's Murowa diamond mine and Caledonia's Blanket gold mine.
The local units of British banks Barclays and Standard Chartered Bank and of British American Tobacco were also given the ultimatum.
Some of the letters were dated Aug. 17 and others Aug. 19, and as such the deadlines would have been on Wednesday or Friday last week. Several such deadlines, however, have passed without incident.
Rio Tinto's Murowa diamond mine said last week it had been given "part approval" for its plan.
Zimbabwe's minister of economic planning and investment promotion, Tapiwa Mashakada, said at an industry conference in Australia last week that the law was "flexible" and does not aim to seize or nationalise assets.
Investors have been left in a cloud of uncertainty as the cash-strapped government cannot afford to pay for such stakes, while badly needed investment into the sector will suffer if it goes through with its threats. (Reporting by Ed Stoddard; Editing by Alison Birrane)
© Thomson Reuters 2023 All rights reserved.