In India's gloomy economy, diamond jobs are not forever
By Rina Chandran
SURAT, India (Reuters) - For Jaysukhbhai Patel, a job cutting diamonds in the western Indian city of Surat was the ticket to a better life for him and his family of four. Last November, Patel's ticket expired when the small factory he worked in was shut like hundreds of others in India's diamond hub, as demand for the gems dipped in the United States and Western Europe, leaving more than 100,000 workers without jobs.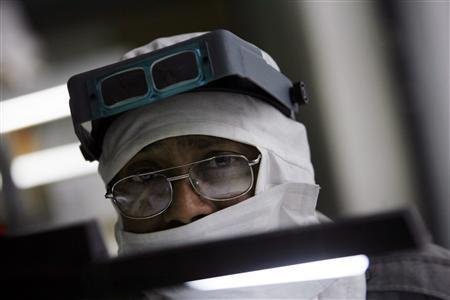 "I have worked in this industry for nearly 30 years, and I have seen many ups and downs," said Patel, father of three children who now works in a local library for less than half his previous wage of about 4,000 rupees (55 pounds) a month.
"But I have never seen factories being shut like this."
The woes of Surat reflect a wider downturn for India's export sector, which accounts for a fifth of Asia's third largest economy. Exports have fallen four months in a row and the latest data available shows a slide of 16 percent in January.
The job losses in one of India's biggest earners come weeks before a general election that is also a potential hot potato for the Congress-led government.
During the boom years, an estimated 800,000 workers, mostly from the Saurashtra region of western Gujarat state, spent 10-12 hours a day in thousands of factories and workshops, cutting and polishing tiny rough diamonds for export.
Now mostly silent and shuttered, the factories are victims of a global financial crisis that has hit demand for the gem that defined this city for decades.
India processes about seven in every 10 of the world's diamonds, mostly cheaper stones less than a carat. Surat is the heart of the industry, built on the skills of its craftsmen, its cheap migrant labour and its legendary entrepreneurial spirit.
"People have worked hard to build this business for the last 30-40 years, but this downturn has made people risk-averse and afraid to trust their own people," said Anoop Mehta, president of Bharat Diamond Bourse, the exchange in Mumbai.
Tighter liquidity and a weaker rupee, which lost 19 percent against the dollar last year and has slipped more than 5 percent this year already, are also weighing on the industry, he said.
"What they'd earned over several years has been lost in a flash. This business runs on trust, so when payments are delayed, when orders are cancelled, it shakes your confidence."
TOO LITTLE
At about $11 billion, India's exports of cut and polished diamonds is down about 3 percent so far this fiscal year from April, the Gem & Jewellery Export Promotion Council (GJEPC) said.
Several diamond units have abandoned their business entirely, installing textile machinery or taking on other work.
"Gujaratis are very entrepreneurial and street-smart; they will quickly adapt to any situation," said Vasant Mehra, chairman of GJEPC, the main industry body.
"But this is an extreme situation, and every industry has been affected. So I do not know how they will fare."
Gujarat's Hindu-nationalist Chief Minister Narendra Modi has criticized the government for not doing enough to help workers.
Leading Congress politician Rahul Gandhi, touted as a potential prime minister, has visited Surat in a sign of the growing political weight of job losses in the export sector ahead of the April-May general election.
It is hard to come by accurate data on the number of factories or workers employed in Surat, as most units are small and do not maintain employee records, paying workers per diamond.
Estimates range from 500,000 to 800,000 workers in 6,000 to 10,000 factories and workshops.
The industry estimates that about 30-40 percent of factories have shut. More than 70 workers have committed suicide since the downturn, welfare organizations said.
Small traders, who do deals sitting on their parked motorbikes in the heart of the city's business district, now have time on their hands to discuss cricket scores.
The industry has appealed to the state and the central bank for assistance, and has also put together an emergency package of about 5 million rupees for workers.
But that has not been of much comfort to Patel.
"For so many years we've worked 12-14 hours every day for our factory owners. Now they are not helping us," he said. "The assistance they are offering is too little. And how can I learn a new trade at this age?"
FAMILY TORN
Surat and its diamond workers are not alone. A Labour Ministry survey has estimated that India's small-business sector, which accounts for more than 60 percent of economic activity, lost about half a million jobs in the October-December quarter.
Lobby group Federation of Indian Export Organizations has said exporters may cut 10 million jobs in the year to March 2009.
Surat, notorious for its opaque dealings, has long been criticized for its sweatshop-like conditions.
Babu Jirawala, leader of the Surat Diamond Workers' Association, hopes the crisis will bring about change.
"These workers have no job security, no insurance, no pension, not even an ID at their workplace," he said in his tiny office, where workers drop by from time to time for updates.
"So far it was like a family, now it's been torn apart, and owners have abandoned the workers. Now, if the central bank helps, then they must lay down conditions on these factories."
Among larger manufacturers, who are stepping up promotional efforts in new markets such as India, China and the Middle East, there is hope the crisis will strengthen the industry.
India's share of the diamond processing industry is forecast to drop to around 49 percent from 57 percent by 2015, according to consultancy KPMG, with growing competition from China and mining countries such as Angola, Namibia and Botswana.
"We will see greater discipline, and some consolidation. There were overcapacities even during the boom," said Agam Sanghavi, a director at Sanghavi Exports, one of the largest manufacturers in Surat, with several overseas offices.
"Business is down now, but the fundamentals of this industry are strong and desire for diamonds is still strong. We will come out of this stronger," he said.
(Editing by Alistair Scrutton and Megan Goldin)
© Thomson Reuters 2023 All rights reserved.