In New Hampshire, health care sways elderly votes
By Jason Szep
DERRY, New Hampshire (Reuters) - Derry boasts the hallmarks of a classic New Hampshire town -- white-steepled churches, fading red-brick textile mills and autumn foliage that's exploding in brilliant reds and yellows.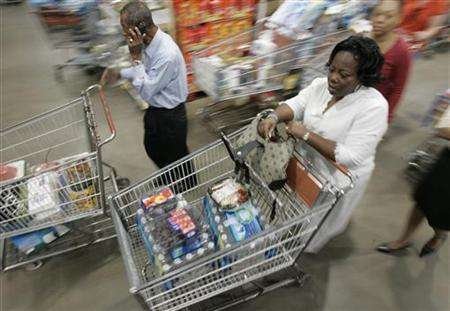 But one thing is missing: a growing pool of young workers.
Seeking to control the graying of its 34,290 residents, the town where the nation's first potato was planted in 1719 took the unusual step two years ago of limiting construction of new homes for people aged 55 and older.
In the state that helps kick off the 2008 White House race, Derry's aging voters are among the forefront of those who say one issue towers above others: health care.
"I can't afford to go to a doctor or a hospital, and I have problems of my own," said Tony Barros, 77, at the Derry Barber Shop.
Barros says he tunes in when presidential candidates talk of bringing universal health-care coverage to the United States, where the high cost of care has put insurance out of reach for millions of people.
"I would like to be able to go to a doctor or a hospital, show a card, and go home. But that's not happening because each party is not cooperating with the other," said Barros.
He plans to vote for Democratic frontrunner Hillary Clinton after the New York senator visited the nearly 300-year-old town last week touting her plan to require health insurance for 47 million uninsured Americans.
'SOCIALIZED MEDICINE'
Larry McCraig, a former software developer who runs a Derry engraving shop, bristles at the idea of a bigger government hand in health care. He backs former Massachusetts Gov. Mitt Romney, a one-time venture capitalist who leads his Republican rivals in New Hampshire polls.
"Mitt Romney has probably got the right idea," he said. "I don't really like forcing people to do anything but perhaps that's the best of all of them that are out there."
Romney, who calls Clinton's plan "European-style socialized medicine," has proposed a plan with federal tax breaks and incentives to states to help the uninsured afford coverage.
Romney introduced near-universal health care in neighboring Massachusetts in a plan similar to the one proposed by Clinton. He has since distanced himself from parts of it, including an "individual mandate" that compelled people to buy health insurance much in the way automobile insurance works.
Political analyst Dean Spiliotes said voter concern about health care partly explains Clinton's lead in the small state of 1.3 million people, which is thrust into the national spotlight every four years as it holds the first U.S. presidential primary.
"No matter what Hillary Clinton or Barack Obama put out there, the Republicans are going to try to spin it as socialized medicine, big government, etc.," he said, referring to the Illinois senator who trails Clinton in New Hampshire polls.
"But Clinton has fought back by sending mailers to the homes of New Hampshire residents which are quite slick and lay out all the ways in which it is not simple government programs," said Spiliotes.
'WE NEED IT BADLY'
Derry's concerns are echoed across New Hampshire, whose population is graying faster than the national average on an influx of retirees drawn to its ban on state income tax, low crime, abundance of elderly homes and New England charm.
"We're starting to look a lot like Florida," said Peter Francese, a New Hampshire demographer and founder of American Demographics magazine, referring to the much warmer state that attracts the most elderly immigrants in the nation.
In 1990, about 19 percent if New Hampshire's residents were 55 or above. Today, that proportion has reached 25 percent, he said.
"Health care is very important because we have such an elderly population," he said.
The future looks even grayer. The number of New Hampshire residents between age 60 to 64 are projected to swell 173 percent between 2000 and 2020, said Thomas Duffy, a senior planner in the state's Office of Energy and Planning.
Like several nearby communities, Derry moved to slow the development of new homes zoned exclusively for the elderly, revising a law in 2005 to limit housing for people aged 55 and above to 3 percent of its housing units.
Some locals say they fear the demographic changes, and forthcoming retirement of the baby-boom generation, will make the Medicare government health plan insolvent.
Waiting in a wheelchair outside a Derry retirement home with thin tubes of an oxygen tank under his nose, John Costello, 78, said he relies on Medicare but worries it will go broke and is leaning towards Clinton.
"It costs $80 for a tank and I use about 12 tanks a week," he said. "I think Clinton knows what she is doing."
Standing in line for free handouts of food at thrift shop, Robert Marquis, 63, said the U.S. health-care system has nearly collapsed and sees universal care as the only answer.
"I'm not sure how they are going to do it but we need it badly. Civilizations are always concerned with how you treat your old and infirm, and how you treat your children," he said. "And we're in a lot of trouble."
(additional reporting by Claudia Parsons and Pat Reaney)
© Thomson Reuters 2023 All rights reserved.