India says retail reform will create 10 million jobs
NEW DELHI - India said on Friday plans to open its vast retail sector to global supermarket chains would create up to 10 million jobs over three years after the cabinet approved the long-awaited reforms.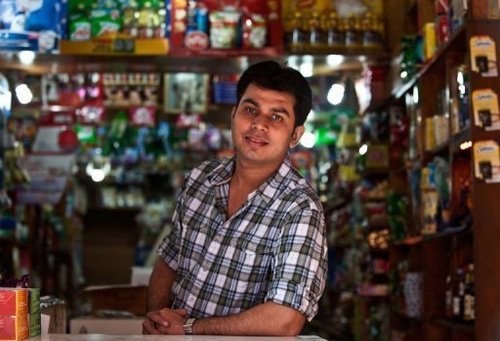 The Indian retail market is estimated to be worth $450 billion a year (AFP, Manan Vatsyayana)

The pledge by Commerce Minister Anand Sharma came after heated opposition protests stopped the government announcing details in parliament about its move to relax foreign ownership rules for retailers such as Wal-Mart.
The changes would push India further towards a modern consumer society but they are contested by opposition lawmakers who fear large supermarkets will kill small family-run stores where most Indians now shop.
The reforms will "give a fillip to job creation," generating up to 10 million jobs over a three-year period, in such areas as packaging, canning and transportation, Sharma told a news conference.
"We hope in excess of four million jobs will be created and in logistics anywhere between five to six million jobs will be created over a period of three years," Sharma said.
The government plan will open up the sector, worth an estimated $470 billion in annual sales, to allow Wal-Mart, Tesco and other global firms to hold a 51-percent stake in multi-brand retailers.
The cabinet also raised the foreign investment cap to 100 percent from 51 percent for single-brand retail operations such as Gucci, Nokia and Reebok.
"This has been a long time coming, and will be welcomed," said Arvind Singhal, head of consultancy Technopak Advisors.
The Congress party-led government has been seeking to fend off charges of "policy paralysis" after being engulfed in a string of corruption scandals.
The government's decision, called a "game-changer" by business leaders, was seen as a signal of intent to press ahead with its reformist agenda despite strong political opposition.
"We're opposed to foreign direct investment in the retail market as it will instantly kill all small traders," said Murli Manohar Joshi, a veteran leader of the main opposition Bharatiya Janata Party (BJP).
Foreign multinationals have lobbied for years to sell directly to consumers in the world's second most populous nation. Multi-brand foreign groups such as US-based Wal-Mart now operate as wholesalers in India but cannot sell directly to the public. The vast majority of consumers shop at small local markets.
But as part of measures to pacify opposition and protect family shops, foreign multi-brand stores will only be permitted in cities of more than one million people, and India's 29 states will be able to decide whether to allow the retail behemoths to operate on their turf.
Critics have worried that modern, large-format stores will drive small shops out of business, despite assurances from industry figures that the growing market is big enough to embrace all models.
Currently, family-run stores account for 90 percent of the sector, the second-largest employer after agriculture in the country of 1.2 billion people.
"There's no government policy to protect us if the foreign supermarkets come in. They'll offer better prices. Of course it will mean less business for us," said Deepak Sethi, 33, who runs a family-owned store in New Delhi.
To make the policy more palatable, foreign retailers will also have to invest a minimum $100 million. Half must be spent in modernising India's dilapidated back-end infrastructure such as cold storage and packaging.
Some 40 to 50 percent of perishable goods produced by farmers "sweating in the fields" never reaches markets, minister Sharma noted.
"Unless (this reform) is done, we will have a situation continuing where the farmer bleeds and the consumer is fleeced," he said.
Foreign retailers will also have to source at least 30 percent of manufactured and processed products from small-scale Indian companies.
"This is a distinct and different Indian model," Sharma said.by Penny MacRae
Copyright © 2023 AFP. All rights reserved. All information displayed in this section (dispatches, photographs, logos) are protected by intellectual property rights owned by Agence France-Presse. As a consequence you may not copy, reproduce, modify, transmit, publish, display or in any way commercially exploit any of the contents of this section without the prior written consent of Agence France-Presses.