Industry body takes EU to court over shoe duties
BRUSSELS, March 19 (Reuters) - A European sporting goods industry body said on Friday 19 March it had started legal action against the European Union over its decision to extend anti-dumping duties on shoes imported from China and Vietnam.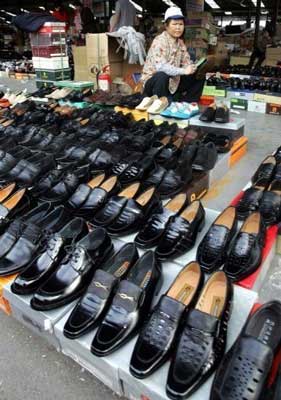 Photo : AFP
The Federation of European Sporting Goods Industry (FESI) said in a statement the European Commission's decision to extend duties on imported Chinese and Vietnamese leather footwear was based on a misguided investigation and analysis. FESI, whose members include top sports footwear brands such as
Adidas
(ADSG.DE),
Puma
(PUMG.DE),
Nike
(NKE.N),
Lacoste
and
Asics
(7936.T), said the duties had cost the industry nearly 1 billion euros ($1.36 billion) since being introduced in 2006.
"We have taken this case to court not only because we firmly believe that these duties are unjustified but also because it is clear to us that the European Commission is ignoring the basic economic realities of the footwear business," FESI president Horst Widmann said in a statement.
The legal action has been filed with the EU's General Court, the bloc's court of first instance. The European Commission is the executive arm of the European Union.
The European Commission imposed the import duties on Chinese and Vietnamese footwear following a complaint by European manufacturers who argued that they were unable to compete with low-cost producers from both countries.
The dispute has heighten trade tensions between the 27-nation bloc and China, its biggest trading partner after the United States and its biggest source of imports.
European Union ministers voted in December 2009 to extend the import duties for another 15 months, while Beijing launched a dispute at the World Trade Organisation last month over the EU tariffs, saying they were illegal.
On March 4, the Luxembourg-based General Court rejected a similar appeal by a number of Hong Kong and China-based shoemakers against the import duties. (Reporting by Bate Felix) ($1=.7346 Euro)
© Thomson Reuters 2022 All rights reserved.