Interview with Pierre Morisset: "Only brands which invest are going to survive"
Creative director at Dutch denim wear brand G-Star for the past 22 years, denim enthusiast Pierre Morisset – who revolutionized the market with the launch of the Raw pure indigo line and the iconic G-Star Elwood, gives his view of the current state of the denim market. Before joining G-Star, Morisset worked for, amongst others, Chipie and Liberto.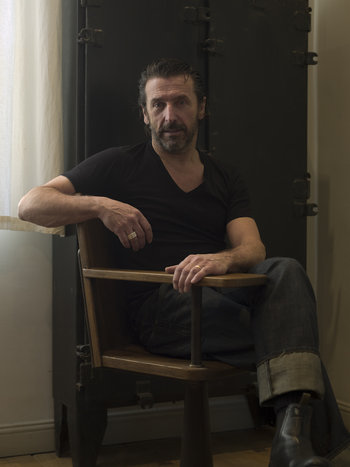 Pierre Morisset, G-Star's creative director
FashionMag.com: The denim market is suffering. Why do you think that is?
Pierre Morisset
: There's a lack of ideas and creativity. Denimwear has become hackneyed and massified, and that's where the industry's crisis stems from. All the big chains sell jeans for 39 euros. We can't compete with that. Brands that continue making just the classic five-pocket model won't survive. Traditional cuts are losing ground quickly and the market today is saturated. It's the brands that haven't evolved that are suffering from the crisis. At a time like this, you need to have the courage to be bold, to be innovative, and to forge ahead. Only brands which invest are going to survive. You mustn't be afraid to take risks or to be criticized. When you really believe in something, the harsher the criticism, the bigger the reward!
FM: Where does G-Star fit in?
PM
: We aren't experiencing any problems. Our strength lies in the launch of 3D, which is helping us to sell. In 2011, our sales of jeans alone rose by 17% in spite of the crisis. Research has breathed new life into denim wear. This season, we're launching our Chinese denim fabric: it'll be the antidote for the denimwear crisis! This Chinese fabric is the bluest of blues and the best that can be had in indigo denim. It was used by Chinese sailors more than 100 years ago. It's also the fabric of kings, as the same type of fabric was found in the Egyptian pyramids. Both warp and weft threads are in pure indigo, meaning that it wears a lot less quickly. With this denim, we're going to make people fall in love with jeans all over again!

FM: Marithé+François Girbaud have narrowly avoided bankruptcy…
PM
: François is an extraordinary guy, someone that I've always admired. I think that he's always been one step ahead of the market. He wanted to carry on being innovative, but that's not necessarily what the market wants. He forged ahead without thinking about whether the consumer could keep up. In five years' time, they'll be saying that he was avant-garde and that he was right.
FM: So what direction should brands be taking?
PM
: There's a hankering to make denim special, to ennoble jeans. That's what G-Star is all about: bring the brand up to date whilst staying accessible. We make a huge effort to make good quality products at affordable prices. Anyone can make a pair of jeans and sell them for 300 euros, but a well-made, affordable pair of jeans – that's much more difficult, the 'democratization' of high-quality denim.
Copyright © 2023 FashionNetwork.com All rights reserved.