Is the seller-buyer relationship on the verge of a break-up? - Report
L'Observatoire Cetelem* dedicated a great part of its last study, which it publishes every beginning of the year on the topic of retail evolution, to the dying relationship between customers and suppliers. This is what the experts we interviewed believe to be the case in the retail world at the moment, although they also say that there is a solution to the problem.

Be it Valérie Tallepied from Retail Management Services and Lionel Meyer from Luxury Attitude who work in the luxury sector, or Isabelle Sutterlet from Id Retail which works very closely with clients such as Fiesta and Gedenim, both of them have difficulty understanding the life shared between consumers and sellers. Valérie Tallepied admits that L'Observatoire Cetelem's report hit the nail on the head with its findings and analysis. The study is all the more so interesting because it takes into account 13 European countries.

Decreasing demand for sales people
In regards to the textiles market, the study says that sales professionals are less and less in demand. When buying a product, customers from across the world said that salesmen are the fourth people they seek for sales advice. When it comes to shopping for personal goods, only 27% of people below the age of 30 cited them in their top 2 sources of information behind their purchase choices. But the score also only came to 38% amongst people over 50. The low scores are constant throughout all European countries, in particular that of the United Kingdom which reported that only 14% of consumers younger than 20 or 20% of those older than 50 go to sales people for advice.

Internet-savvy consumers
The biggest competition faced by sellers comes from the Internet. Customers these days do their shopping in bulk over the internet as it offers them millions of different opinions which are considered to be less partial than those of sales people, whom people tend to be wary of since "they are only there to sell". In France, 26% of people below the age of 30 believe that most personal goods' salesmen do not know their sector very well. 36% of those aged above 50 think the same thing. A common phrase found in Cetelem's customer surveys was: "I know almost more than them from what I have learnt on the Internet". The seller's objectivity is also constantly disputed, especially by people from countries in Northern Europe. An increasing number of consumers from Eastern Europe also share the same concern, in particular young people from Czech Republic and Poland.

Shocking figures: In France, only 14% of customers below 30 years and 21% of those above 50 state that a salesperson stopped them from making a bad purchase in their last important shop. This was the case for all 13 surveyed countries. When it came to judging their kindness, sales people did not do so badly: French people below the age of 30 gave them a score of 5.9 out of 10, while those older than 50 gave them a 6.4. But the study revealed that customers elsewhere were less unanimous with their opinion, with young people showing a much bigger resent towards salespeople than older ones. Another less evident difference can be found between the opinions of consumers from Northern and Eastern Europe: "British customers, particularly demanding, appeared to be only moderately satisfied with the politeness of sales assistants. On the other hand, human contact between sellers and buyers was regarded as friendlier in countries from the East". L'Observatoire suggests that it was as if the kindness of a sales person was inversely proportional to the customer's income".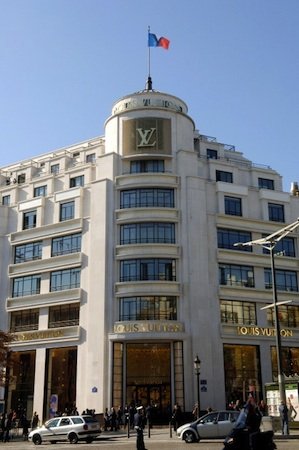 Luxury as well as budget brands fear the situation (Louis Vuitton building on Champs-Elysées avenue, photo by Pixel Formula)
The role of the salesperson in question
Instead of going through a "divorce", the seller-buyer relationship across the world can thus be better described as being murdered. Does the study sound the death knell of sales people? Definitely not, explains Flavien Neuvy, the director L'Observatoire Cetelem. Human presence on shop floors is highly requested by clients who want to see and touch the products, but their role is of no use to customers who constantly like to keep control". Therefore, sales assistants will no longer be able to content themselves with just selling, but are going to have to become transmitters of material desires.
The experts in the field that we interviewed said that they have a more positive outlook on the situation, all the more so because this rupture in the relationship between the two is something that companies and even the sales staff are becoming increasingly aware of. "They confess that they feel lost when faced with customers whom they do not know what to say to anymore", Valérie Tallepied emphasises. "The bar is getting higher", Isabelle Sutterlet adds. "It is the case in all sectors, from luxury to value brands, where competition is enormous".
Realising that something needed to be done in order to reconcile the seller-buyer relationship, a customer service specialist from Luxury Attitude decided to get in touch with
White Sky
. This brand strategy agency, specialised in luxury hotels and leader in customer relations, is now offering services to apparel brands (although its portfolio also includes clients such as Nespresso). "The behavioral change in clients in the luxury sector is even more prominent, explains Lionel Meyer. Luxury consumers travel, compare products, live with their mobile phones, etc". According to the specialist, brands nowadays are also making a high level of promises that they had never made in the past, and which are sometimes hard to fulfill. For
Mathieu Forestier
, White Sky's co-director, it is necessary for the client to live an experience, aside from the purchase, in relation to the brand. "That is where it all begins", Isabelle Sutterlet agrees.
* To learn more, you may refer to L'Observatoire Cetelem 2011 at
www.observatoirecetelem.com
Copyright © 2022 FashionNetwork.com All rights reserved.