Italy fashion sector seeks aid as crisis bites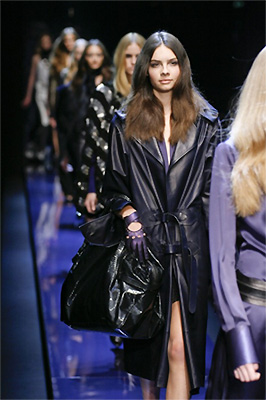 Fashionshow Salvatore Ferragamo fall-winter 2008/2009 in Milan in march 2008
By Marie-Louise Gumuchian
MILAN (Reuters) - Italy's fashion industry is calling for government help as the global crisis cuts into demand for designer clothes and accessories and the sector's first credit crunch casualty goes into special administration.

Luxury brands have not been spared by the global economic turmoil and the sector has been hit by growing evidence of restrained spending even among the super-rich.
In a senate hearing this week, the head of Sistema Moda Italia, which represents the textile and clothing industry, warned of risks for the sector and called for government help.
"The Italian clothing and textile sector risks falling to pieces under the weight of the international economic crisis," Michele Tronconi, was quoted by Italian media as saying.
"We don't want someone to pedal for us. We know how to ride a bicycle well but at this time a push is necessary."
The Italian government this month approved a total stimulus package of more than 2 billion euros ($2.52 billion) aimed at the auto sector and household goods, in the latest attempt by the debt-laden government to boost the economy amid the financial crisis.
Italy's National Chamber of Fashion, which has already said fashion businesses were shocked that their sector had not been taken into consideration, added weight to the call for aid on Wednesday.
Chairman Mario Boselli told reporters it was understandable aid was aimed at the auto and domestic appliances sectors but questioned furniture being helped over fashion.
"I am pleased they are being helped but I would say fashion merits being first and getting more," he said.
The Industry ministry said a meeting would be held next week on the textile and clothing industry, adding it has already taken measures for the "Made in Italy" manufacturing sector.
Italy's textile and clothing sector is known for top names such as Armani and Versace as well as its "Made in Italy" reputation for quality. But it has also in past years been hit by job losses, folding businesses and competition from Asia.
Larger players look better able to weather the storm and observers see smaller and family-run companies being the hardest hit as production capacity outpaces demand.
Last week, IT Holding, owner of fashion brand Gianfranco Ferre, requested special administration for its Ittierre unit that distributes goods for brands like Versace and Cavalli. The government has since appointed administrators.
Turnover for Italy's fashion industry is expected to fall 5 percent this year to 63.2 billion euros ($79.58 billion), according to the fashion chamber.
In a sign of the times, several brands have decided not to show on the catwalk, opting instead for presentations.
At Milan's January Autumn/Winter 2009/10 menswear fashion week, there were 20 percent fewer collections, Boselli said, adding there would be about 10 fewer catwalk shows at Milan's Feb 25-March 4 womenswear fashion week. Despite this, he said there would be more brands presenting designs.
"Milan has 10 more collections than before the crisis," he said. "People do not have the negative sentiment that they had before Christmas which affected January's (menswear) shows."
(Editing by Paul Casciato)
© Thomson Reuters 2023 All rights reserved.