Italy's summer fashion sales fail to match 2008
CERNOBBIO, Italy (Reuters Life!) - Italy's traditional summer sales period was worse this year than last, the country's fashion body said on Friday 4 September, adding that overall sector turnover could fall more than expected this year.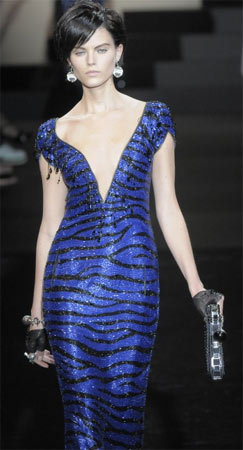 Giorgio Armani - Haute Couture autumn-winter 2009/2010 - Photo: Pixel Formula
The summer months are when Italians usually flock to their favorite designer stores to snap up clothes, shoes and bags at discounted prices.
As luxury brands have not been spared by the global economic turmoil, some fashion retailers picked up on promotional activities even before the sales period began.
"(Sales) were so-so, they didn't go particularly well," Mario Boselli, chairman of Italy's National Chamber of Fashion, said on the sidelines of a conference in northern Italy.
"Sales in outlets certainly went better than in the usual network places."
When asked if the sales were worse than last year, he said "yes, certainly." The chamber has said it expects Italy's fashion sector, known for top names such as Giorgio Armani and Prada, to see its turnover fall again this year and has forecast an around 6 percent decline to just over 60 billion euros ($85.61 billion).
However Boselli said the fall could be greater.
"I would hope that the fall will still be 6 percent. Given we had a worse fall (than 6 percent) in the first half ... I think it will be difficult to manage to compensate enough for this loss in the second half," he said.
"It'll probably be bigger (than 6 percent) at the end of the year ... We hope we can keep it within 10 percent."
(Reporting by Jo Winterbottom, Writing by Marie-Louise Gumuchian)
© Thomson Reuters 2023 All rights reserved.