Italy wrings hands over work death "plague"
By Gavin Jones
ROME (Reuters) - Albanian immigrant Artan Plaka was 19 when his head was crushed in the machinery of a Tuscan textile firm and he became, officially, the 435th death at work in Italy since the start of the year.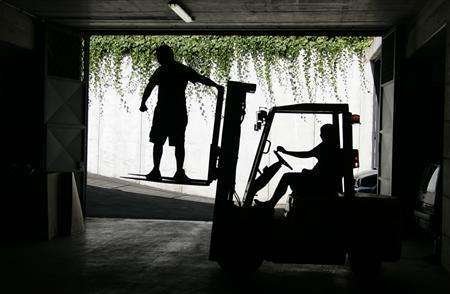 The frequency of fatalities at work, known in Italy as "white deaths," is considered a national scandal in one of the Group of Seven (G7) rich nations.
One report has compared it, unfavorably, with the death rate of U.S. soldiers in Iraq.
Data from the International Labour Organisation shows the rate of workplace deaths in Italy is more than 40 percent higher than in France, nearly twice as high as Germany's and seven times as high as in Britain.
Artan's death, like the previous 434, earned short articles in local media, with the added tragic point of interest that it was his first day at work -- or so his employers declared.
But police soon discovered otherwise and the owner of the company came under investigation for employing him without a contract and for manslaughter. Prosecutors suspect Artan, like many immigrants, was set to work without proper safety measures or training to work the machinery.
"They always say it's their first day at work," said Nazareno Bisogni, spokesman for the Tuscan branch of the CGIL, Italy's biggest trade union confederation.
"These immigrants are employed off the books with no labour protection so when they die, the firms say it was their first day and they were still sorting out their paperwork. It's an old trick but no one believes them any more."
Experts say the structure of Italy's economy and labour market makes it a breeding ground for tragedies like Artan's.
It has a huge underground economy, high illegal immigration and a prevalence of very small, low-technology companies relying on a low cost base and temporary, often immigrant, staff.
The result is reduced protection for workers, a problem compounded by a lack of inspectors employed by the cash-strapped government which is struggling to rein in a high budget deficit.
"WORSE THAN WAR"
The penny-pinching has a high cost in terms of hospital care and lost work hours estimated at nearly 45 billion euros ($61.8 billion) per year, or 3 percent of gross domestic product.
"Worse than War" was the title of a research document by the Eurispes institute, a private think-tank. It compared the 3,520 deaths in the U.S.-led coalition in Iraq from April 2003 to April 2007 with the 5,252 workplace deaths in Italy from the beginning of 2003 to October 2006.
Unions, political parties and media groups campaign on the issue, the Vatican's official newspaper lobbies against what it calls the work death "plague" and President Giorgio Napolitano has often spoken out on the subject.
A National Day for Work Victims is held every year in October, but the fatalities continue unabated and are now well past 500 this year. Last year's official total was 1,302. Labour groups say the real count is higher.
"Labour conditions have worsened with the rise in illegal immigration and a lot of accidents and even deaths involving immigrants aren't reported," said Marinella de Maffutiis of the National Association for the Injured at Work.
"It all boils down to the fact that many Italian employers don't obey the rules."
IN FRONT LINE
Immigrant workers, often working in high-risk sectors like construction, have less protection than their Italian counterparts.
More than 11 percent of those who died between 2002 and 2006 came from outside the European Union. Just 4.7 percent of Italy's population is made up of foreign citizens, including those from EU states.
At dawn each day, car parks around Rome are filled with African and Eastern European immigrants offering their services to anyone needing builders or laborers for a daily rate a fraction of what an Italian firm would charge.
They are more likely to be climbing scaffolding wearing caps and training shoes rather than the hard hats and boots prescribed by regulations.
Yet for immigrant workers from the developing world they are probably safer in Italy than if they had stayed at home. India has a ratio of workplace deaths some five times as high as Italy's and Ukraine's is nearly twice as high. No figures are available for China.
Immigrants can also be reluctant to criticize employers who have offered them work, however badly paid or protected.
Artan, who left his parents in the southern Albanian village of Vidisht two years ago, lived with relatives near the textile firm where he died.
"He had been working there on and off for two months while he was waiting for his papers," his uncle Ylvi said. "The owner was fond of him, he tried to help us -- and now he's ended up in trouble."
© Thomson Reuters 2023 All rights reserved.