January may mark new low for retail sales
By Karen Jacobs
ATLANTA (Reuters) - A drop in gift-card use and a reliance on post-holiday clearance sales are likely to be the main culprits when major U.S. retailers report lower January sales results this week.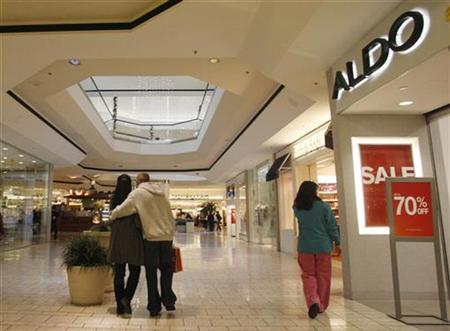 And as consumer spending wilts further under the stress of a deepening recession and rising unemployment, the results may signal more gloom for the rest of the year.
"January is going to be a particularly tough month," said Kim Picciola, a retail analyst with Morningstar. She said the "gift buying imperative" of the holiday season is gone and consumers now don't have a reason to spend beyond the basics.
Analysts expect January sales at stores open at least a year to show a 2.4 percent drop from a year earlier, according to the most recent Thomson Reuters data.
That would be the worst sales month since Thomson Reuters began tracking sales data in 2000 and the fourth straight monthly decline.
"There will be more store closures and more cost-cutting coming from the retail world as retailers respond to what is shaping up to be a really dismal consumer environment for 2009," Picciola said.
The Standard & Poor's Retail Index .RLX gained 1.5 percent on Tuesday as a government report on rising pending home sales in December offered hope for the troubled economy. But the index is off nearly 10.5 percent since retailers reported December sales in early January.
On Monday, Macy's Inc (M.N) became the latest major store chain to cut jobs, freeze executive salaries and pare capital spending for 2009.
The parent of Bloomingdale's and Macy's said it would slash about 7,000 jobs, or 4 percent of its workforce, and shave its quarterly dividend by more than half. It said same-store sales could fall 6 percent to 8 percent this year.
In recent years, January has become an important month for store chains as consumers redeem gift cards received over Christmas. But with 2008 gift-card sales suffering in the most dismal holiday shopping season in nearly 40 years, analysts are not expecting much of a lift this year.
Gift cards "will help in clearing out clearance inventory but I wouldn't expect a major bump-up from gift-card spending," said Sarah Henry, retail analyst with MFC Global Investment Management.
Colder January temperatures and snow helped retailers sell hats and gloves but also slowed traffic in some parts of the country. According to weather forecasting service Planalytics, the month was the coldest January since 2004.
For the week ended on Saturday, sales were up 1.6 percent from the prior week but down 2.5 percent from a year earlier, according to the ICSC-Goldman Sachs weekly chain store sales index.
VALUE IN VOGUE
Retail leader Wal-Mart Stores Inc (WMT.N) is expected to post a 1 percent same-store sales rise at U.S. stores. BJ's Wholesale Club Inc (BJ.N) and Fred's Inc (FRED.O) are also expected to eke out sales gains as consumers continue to trade down to lower-priced chains.
Apparel retailers, with an expected 11 percent same-store sales decline, may turn in the worst January performance. Department stores are estimated to be down 10.6 percent.
With retailers expected to comment on sales trends and update profit forecasts for the fourth quarter and coming year, analysts will be looking to further gauge the effect of deep discounting on margins and inventory levels heading into the spring selling season.
A host of retailers have already cut quarterly profit forecasts, saying price markdowns hammered margins.
"We've seen a dramatic fall in consumer demand and a lack of inspiring fashion, two factors that are contributing to a very weak January," Stifel Nicolaus analyst Richard Jaffe said during a conference call on Tuesday.
"While spring assortments are looking new and fresh and attractive, I don't think they are getting much of a response," Jaffe added.
Beyond January, many retail watchers are also not banking on a sales pickup. Shoppers' lack of motivation to spend, rising unemployment and falling prices are expected to keep retail conditions weak in 2009.
"Consumers are going to remain extremely cautious in the first half of the year given everything that is going on," said Morningstar's Picciola. This caution will carry over into the second half, she added.
(Additional reporting by Nicole Maestri in New York, editing by Bernard Orr, Dave Zimmerman)
© Thomson Reuters 2023 All rights reserved.