Japan retailer Aeon forecasts modest profit growth
April 14 - Japan's Aeon Co forecast on Thursday a 1.5 percent rise in operating profit this financial year, with demand for basic goods set to limit the impact of a post-quake decline in overall consumer spending for the nation's second-biggest retailer.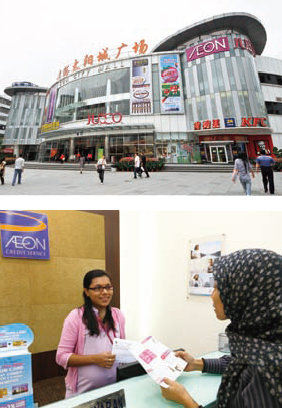 Aeon in China
The March 11 earthquake and tsunami, along with the ensuing nuclear crisis and power shortages, have hurt consumer sentiment and are expected to hit discretionary spending, especially at department stores and other high-end retailers.
Still, analysts expect demand for food and other essentials to help general retailers such as Aeon weather the downturn.
"The future is unclear and with factors such as unemployment, consumption of high-end items will definitely take a hit, but ultimately all retail companies will be affected, whether they sell cheap or expensive goods," said Tetsuro Ii, chief executive officer of Commons Asset Management.
The retail conglomerate, which competes with Japan's Seven & I Holdings , forecast 175 billion yen ($2.1 billion) in operating profit for the year that began in March. That is slightly lower than the average estimate of 178.9 billion yen in a poll of 13 analysts by Thomson Reuters I/B/E/S.
For investors looking at the retail sector, convenience store operators are probably the best pick, Ii added.
Earlier on Thursday,
Lawson
, which runs Japan's No.2 convenience store chain, forecast a 3.5 percent rise in operating profit to 57.5 billion yen for the year that began in March.
Last week, Seven & I, which operates Japan's No.1 convenience store chain, Seven-Eleven, as well as supermarkets and department stores, forecast a 1.9 percent gain in annual operating profit.
For the fourth quarter of its business year that ended in February, Aeon booked a 6.5 percent rise in operating profit to 79 billion yen.
That capped a year when the operator of department stores, supermarkets and shopping malls bolstered profitability with cost cuts while sales rose on pent-up demand after shoppers had made deep spending cuts against a weak economic backdrop.
But the devastation caused by the 9.0 magnitude earthquake has dealt retailers a fresh blow.
At a briefing for analysts and reporters last month, Aeon's chief financial officer Seiichi Chiba estimated the financial impact from the disasters would be at least 30 billion yen but said he expects the retailer to be able to offset the losses over the course of the business year.
Aeon shares have fallen 6.8 percent to 926 yen since last month's quake, compared with a 5.9 percent drop in the benchmark Nikkei average .
They finished 0.4 percent higher ahead of the earnings report, versus a 0.1 percent rise in the main index.
By James Topham
(Additional reporting by Tim Kelly; Editing by Edwina Gibbs)

© Thomson Reuters 2023 All rights reserved.