Japan's Uniqlo parent sees 16 pct gain in operating profit
TOKYO, Oct 12 (Reuters) - Japan's Fast Retailing forecast a 16 percent increase in annual operating profit on higher sales at its domestic Uniqlo outlets and expansion of the budget clothing chain, and posted its first profit rise in six quarters.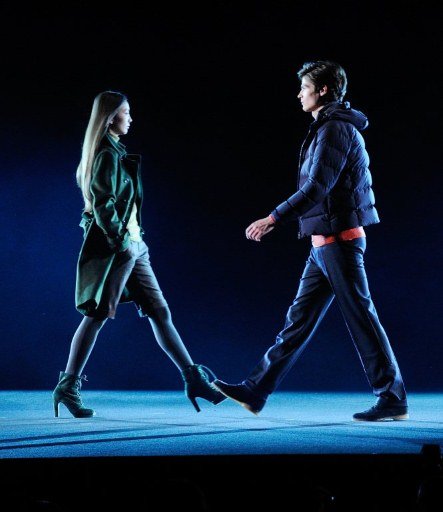 JAPAN, Yokohama : Models display creations of Japan's cheap-chic clothing brand Uniqlo during a fashion show by its operator Fast Retailing in Yokohama, suburban Tokyo, on September 14, 2011. AFP PHOTO/Toru YAMANAKA
Asia's top apparel retailer is working to boost its presence overseas to offset slowing growth in Japan from a shrinking population, persistent deflation and increased competition from retailers selling budget clothing.
The clothing seller, run by Japanese billionaire Tadashi Yanai, is looking to generate sales of 5 trillion yen by 2020, over two-thirds of which is expected to be from Asia.
Fast Retailing, whose rivals include Spain's
Inditex
, Sweden's Hennes & Mauritz and U.S.-based
Gap
, said on Wednesday it expects 135.5 billion yen ($1.8 billion) in operating profit for the year to August 2012.
That is in line with the average estimate in a poll of 20 analysts by Thomson Reuters I/B/E/S. The company forecast same-store sales growth of 5 percent.
For the past business year, the retailer booked a 12 percent drop in operating profit to 116.4 billion yen, after sales at Uniqlo shops in Japan, which account for nearly three-quarters of Fast Retailing's group sales, fell 6 percent.
Operating profit increased 33 percent to 11.8 billion yen for June-August, marking the first rise in six quarters.
Japanese department stores and clothing sellers have been hurt by increased worries over the strength of the country's economic recovery, in contrast to general retailers and convenience stores that have posted robust profits over the past six months on higher post-quake demand.
Japan's retail sales tumbled in August to their first annual decline in three months, emphasizing consumer fears that a historically strong yen and European economic problems may hurt Japanese firms, leading to curbs on bonuses and salary hikes.
Fast Retailing expects the number of Uniqlo shops overseas to grow to 288 by August next year from 181 in August 2011.
Uniqlo is known for its relatively inexpensive clothing such as fleece jackets, T-shirts and its Heat Tech line of thermal underwear.
Fast Retailing shares are up about 2 percent since the start of the calendar year, outperforming a drop of about 15 percent in the Nikkei benchmark .
They ended 2.7 percent lower on Wednesday before the results.
© Thomson Reuters 2022 All rights reserved.