Jeweler Chow Tai Fook profit jumps on Chinese demand
Chow Tai Fook, the world's biggest jewelry retailer, reported a 79 percent jump in annual profit, buoyed by demand for luxury goods in China, though global economic uncertainties may slow revenue growth in the near term.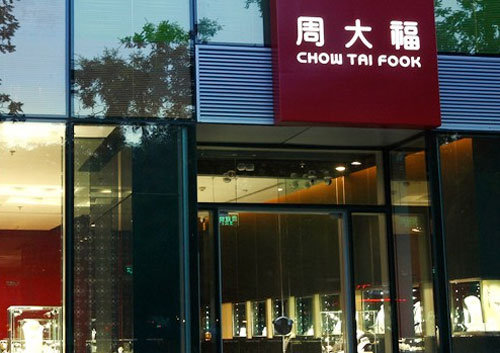 Photo: Chow Tai Fook
The Hong Kong-listed company, which competes with brands like
Cartier
and Tiffany as well as local players Chow Sang and Luk Fook, will spend as much as HK$1 billion ($128.85 million) in 2013 with a focus on boosting sales of higher-margin gem-set jewelry and expanding its outlet network.
"Our current growth is at a sustainable level," Managing Director Kent Wong told reporters in Hong Kong on Tuesday, dismissing concerns of a debilitating slowdown.
Chow Tai Fook posted a net profit of HK$6.34 billion for the year ended March, compared with HK$3.54 billion a year earlier, the company said in a statement on the Hong Kong stock exchange.
Revenue grew 61 percent to HK$56.6 billion, of which mainland China accounted for more than half and sales of gold products comprising 52.6 percent of the total.
China's gold demand hit a record in the first quarter of 2012 on investor worries over inflation and property market curbs, according to the
World Gold Council
, bucking a lower trend in global consumption driven by higher prices. China does not publish gold trade data.
So far this quarter, spot gold prices have shed more than 5 percent, reversing most of the near 7 percent gain in the previous three months.
"We are not affected by movements in the price of gold as we are hedged, so it doesn't affect margins," Chairman Henry Cheng told reporters.
NEAR-TERM SLOWDOWN
Chow Tai Fook, founded more than eight decades ago, said it expects to double overall revenue in three years, a pace that will lag previous growth rates.
Jewelry sales in China are in the midst of a deep cyclical downturn due to global economic uncertainty, HSBC said in a report this month.
"Jewelry sales growth in Greater China has slowed sharply from more than 40 percent in 2011 to the low-teens year on year for the year to date in 2012," the bank said, adding that its top pick in the sector was Chow Tai Fook.
Chow Tai Fook, controlled by the family of Hong Kong jewelry and property tycoon Cheng Yu-teng, recorded a 64 percent jump in revenue from mainland China in the last fiscal year.
Chow Tai Fook would specifically target third and fourth-tier cities to help boost revenue, Chairman Cheng said.
As at March 31, Chow Tai Fook had 1,627 points of sale, with the majority located in mainland cities, particularly tier 2 to 4 cities, which it said were more resilient to economic downturns given China's push to stimulate consumption among lower and middle-income groups.
The company, whose name means good luck in Cantonese, has said it is aiming to grow its point of sales network to 2,000 within the next four years.
Shares of Chow Tai Fook have dropped 34 percent so far this year, after its listing in December. That compares with a 3 percent rise in the benchmark Hang Seng Index .HSI. Shares of domestic rivals Chow Sang Sang and Luk Fook have also dropped, down 43 percent and 11 percent.
One of China's biggest household names, the mass luxury focused jeweler is also expanding into segments including diamonds.
The Chinese jewelry market is forecast to reach HK$1.5 trillion ($198 billion) by 2015, making China the world's largest jewelry market, according to a report from Frost & Sullivan last year.
© Thomson Reuters 2023 All rights reserved.