Jeweller to stars finds silver lining in recession
LONDON (Reuters) - Jeweller to the stars Stephen Webster said thriving sales of his silver range have kept the company flourishing regardless of the global economic slowdown and the near tripling in the price of gold.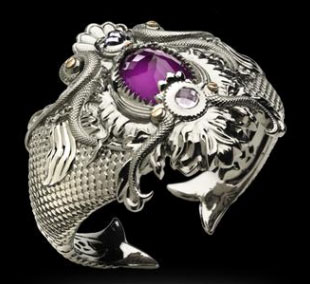 Jewels Verne Collection 2010
Webster, who designed the rings for
Madonna
's wedding to Guy Ritchie and has counted singer Christina Aguilera as his brand ambassador since 2008, is soon to open his biggest store yet at a time the jewellery sector in general has been hard hit.
The Stephen Webster Silver line has grown from its launch in 2008 to account for about 40 percent of the company's business in the United States and about a quarter elsewhere, Webster said.
"The silver-based products are doing extremely well, partly because outside of America there is not the depth of product available for real luxury purchases... and because it's not made in gold, it is a tenth of the price," he said.
"We rode the downturn partly because we have got a very diverse product."
An industry survey recently showed global gold jewellery sales fell 20 percent last year in volume terms. Gold prices hit a record above $1,250 an ounce in early June, up from around $435 an ounce five years ago.
Sales in the Middle East in particular have been hit, Webster said. "Dubai ... has been extremely challenging." The company has two stores in the region, operated in conjunction with a local partner.
Webster is working increasingly with alternative metals to help offset the impact of surging gold prices. "As an industry, we are using less gold," he said. "It is hard to think what is going to happen with gold prices other than going up ... (so) I am glad there are options."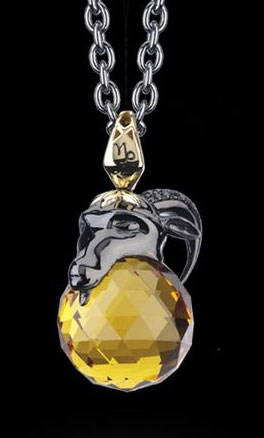 Astro Balls Collection 2010
One of these is titanium, which Webster has become increasingly interested in using as new technologies make it easier to sculpt.
"Titanium is quirky," he said. "If you make something in titanium, it is very organic and sculptural and bright blue. There's a story to it, and people really get into it."
"Working the colour of the metal in with the colour of stones, which I love to do, starts to make something that is really out there," he said.
Webster is now expanding, with a new two-level, 2,000-square-foot store due to open in Beverly Hills in October. "It's going to be beautiful," Webster says. "It feels like a flagship. It'll be our biggest store."
This year also sees the launch of Webster's new men's line, No Regrets.
Webster started his career as a jeweller in 1976, having moved into jewellery design while studying fashion at Medway College, whose alumni also include British artist Tracey Emin and fashion designers Karen Millen and Zandra Rhodes.
"I had a huge enthusiasm and excitement about learning to make jewellery beautifully, more than the design side," he said.
"It is very technical, and it is a beautiful thing to make something as intricate and as precious, and all the things that jewellery can be."
Webster now has around 10 eponymous outlets worldwide, and his jewellery is also sold through luxury stores such as Harrods and Selfridges in London, and Neiman Marcus and Bergdorf Goodman in the United States.
His colourful designs have proved popular with celebrities including Charlize Theron, Dita von Teese, Jennifer Lopez and Kate Moss.
(Reporting by Jan Harvey; Editing by Jane Baird)
© Thomson Reuters 2023 All rights reserved.