Kaupthing Bank takeover 25.4% of Mulberry
Kaupthing Bank Luxembourg, subsidiary of the Icelandic Kaupthing Bank, have purchased 25.4% of the Mulberry group that had been help by Kevin Stanford.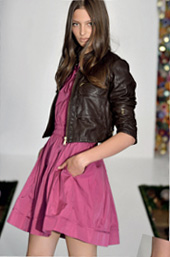 Mulberry Spring-Summer 2009
Revealed by the British daily paper 'The Independent' the news has finally been confirmed by the directors of Mulberry. No precise information about the conditions of the buyout has been released, except for the fact that the cost of deal should exceed £250 million (approximately €265 million).
Kevin Stanford started to acquire shares in the luxury group in 2005 with an opening acquisition of around 3%. The year before he sold on his chain of Karen Millen shops to the Icelandic group Baugur, of which he is a shareholder.
By Jonathan Fulwell (Source: Matthieu Guinebault)
Copyright © 2023 FashionNetwork.com All rights reserved.