Kazakh socialite "Lady Goga" bags Vionnet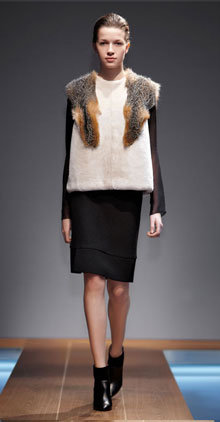 Vionnet autumn-winter 2012 / Photo: Vionnet
MILAN - Kazakh billionaire Goga Ashkenazi, best known for her opulent lifestyle and high-society friends, has agreed to buy a majority stake in fashion house Vionnet, the latest acquisition of a European luxury brand by new-money investors.
The London-based entrepreneur with interests in the oil industry will help the house, founded in 1912 by French couturier Madeleine Vionnet, grow in a globalised industry, despite headwinds in Europe, the company said in a statement on Tuesday.
Vionnet, famous for its fluid asymmetric dresses worn by movie stars such as Madonna and Natalie Portman, was relaunched in 2009 by a group of Italian investors led by former Valentino chief Matteo Marzotto.
The company expects revenues of 9.5 million euros ($12.12 million) in 2012, a drop in the ocean in the multi-billion-dollar luxury industry, but that number is on the rise. Its revenues jumped 40 percent to 7.3 million euros in 2011.
"I believe fashion brands must find a way to fund their growth while respecting their creative process," Marzotto told Reuters.
Vionnet aims to open a monobrand store in Paris after opening its first showroom in Milan this year. Its 1,400-euro dresses are sold in 190 multibrand stores worldwide.
Marzotto, a member of Italy's leading textile family, bought the small French house three years ago, at the peak of the financial crisis, after leading Valentino for two years.
A keen investor, Marzotto said he was committed to the brand, which he will continue to manage with his two Italian partners.
Marzotto said Ashkenazi, also a client of Vionnet, had been looking to invest in a fashion brand.
A succession of investors from fast-growing markets have been snapping up high-end European brands. Chinese YGM Trading Ltd agreed this month to buy Aquascutum, the failed luxury clothes maker that has dressed royalty and politicians, for 15 million pounds ($24 million).
In December, Chinese menswear group Trinity Ltd bought Italian fashion house Cerruti for $70 million.
© Thomson Reuters 2023 All rights reserved.