LA rolls out the red carpet for Project Runway
By Jill Serjeant

LOS ANGELES (Reuters) - Reality fashion show "Project Runway" returns to television on the 20th of August after 10-month hiatus, hoping to "make it work" on a new channel and in a new city, Los Angeles, that is ripe with red carpet opportunities.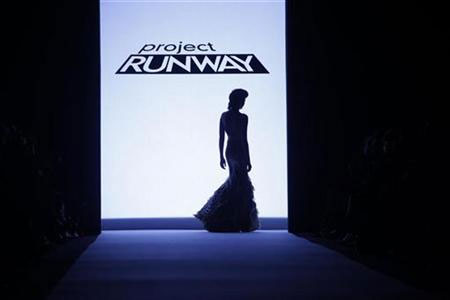 Photo: REUTERS/Eric Thayer
Delayed for months by a dispute between rival networks, the sixth season of the popular fashion design contest comes back with a three-hour time slot on Lifetime Television August 20, along with a companion series about runway models and an all-star challenge with eight favorite designers of the past.
Host and model Heidi Klum, designer
Michael Kors
, fashion editor Nina Garcia and urbane mentor Tim Gunn with his catchphrase "make it work" are all back to guide 16 fledgling designers in a competition to launch their own fashion line.
The biggest change will be the switch from New York to Los Angeles -- home of the biggest celebrity red carpets in the world.
"Los Angeles is a big part of fashion now because of celebrity, film, television and red carpet fashion. So it gave us a chance to do all sorts of new challenges," said Jane Cha, one of "Project Runway's" executive producers.
Filming on the sixth season wrapped up in February, with four finalists sending their collections anonymously down the runway at New York Fashion. The identity of the four finalists has been kept a closely-guarded secret.
But after becoming one of the most-watched reality programs on cable TV with some 4 million loyal viewers, the show was left in limbo after producers, The Weinstein Co, decided to jump from NBC Universal's Bravo channel to rival Lifetime.
The legal battle was settled in April after The Weinstein Co. agreed to pay NBC for the right to move to Lifetime.
Bravo meanwhile made a similar version of "Project Runway" on its own, called "The Fashion Show," with designer
Isaac Mizrahi
, which got a lukewarm reception from fans and critics.
The secret of "Project Runway's" success comes from its focus on the design process and the expertise and chemistry of Klum, Gunn, Garcia and Kors who are like "magic in a bottle when you put them together," said producer Sara Rea.
"The challenges are designed to stretch the designers, not to trip them up and embarrass them," said Rea's business partner Jon Murray.
"Project Runway's" new sister series "Models of the Runway" shows viewers the lives of the models who wear the designers' creations each week. The women also get career advice from Klum, who made her name as a top Victoria's Secret model.
The Weinstein Company's
Barbara
Schneeweiss said "Project Runway" was originally devised as a show about fashion models before the concept was rejigged to focus on the creative process of design.
"But we always knew there was a story to be told behind the scenes about the models, and we decided to put them back together," she said.
(Editing by Bob Tourtellotte)
© Thomson Reuters 2023 All rights reserved.