Laura Pausini to tour the world wearing Armani
Singers really like fashion. For her world tour Madonna chose a plethora of designers' clothes, which included items from Stella McCartney and Givenchy, and Britney Spears was tempted by a wardrobe from DSquared2. Now it can be seen that Europeans are no different; the Italian singer Laura Pausini has plumped for the chic look of Emporio Armani.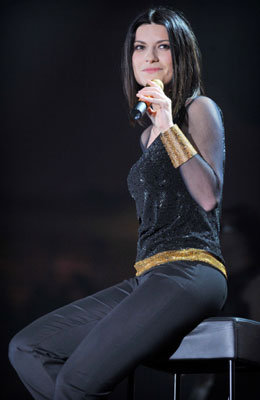 Laura Pausini
After launching her new album, "Primavera in anticipo", Laura Pausini has started her international voyage in Turin. This will be followed by concerts in other Italian cities and throughout Europe, but also in South America and the USA.
For this grand tour she has chosen to be clad entirely in clothes from Emporio Armani. She will be wearing, among other items, a bustier set off with bands embroidered with crystal. Also, she will have a collection of accessories signed by Emporio Armani to complement her outfits, such as large bracelets covered in
Swarovski
crystals or wide belts with jeweled buckles.
And, for completeness, even the musicians and chorus for Laura Pausini will be wearing Emporio Armani designs as well.
By Jonathan Fulwell (Source: Sarah Ahssen)
Copyright © 2022 FashionNetwork.com All rights reserved.