Law on fashion knockoffs not needed say experts
(Reuters) - Lawmakers are considering legislation intended to protect fashion designs from knockoffs, but some experts say the proposed rules could do more harm than good to the industry and consumers.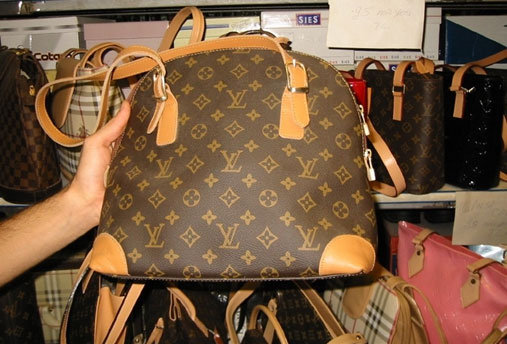 LMVH counterfeit. Photo : AFP
The proposed law, which has bipartisan support, would protect unique designs for three years. For a knockoff to be considered a copyright infringement, it must be so similar that it is likely to be mistaken for a protected design.
The legislation was introduced by Democratic Senator Charles Schumer last month after a 2007 bill to amend the Copyright Act for fashion designs was deemed too broad. Schumer's bill came after talks with the
Council of Fashion Designers of America
, or CFDA, and the
American Apparel
and Footwear Association.
"It is not needed," Kal Raustiala, a law professor at the University of California, Los Angeles, said of the legislation. "It will probably cause more harm than good."
"The industry is actually working very well today, and there is no compelling reason to change," he said. "The point of copyright laws is to ensure that copying doesn't kill creativity. In fashion, we have long seen copying coexist with creativity. Indeed, copying often fosters creativity."
But Schumer said the legislation was needed because the U.S. fashion industry was being hurt by knockoffs and at a disadvantage compared with Europe, where laws protect registered designs for up to 25 years.
Fashion is the second-largest industry behind finance in New York, home to more than 800 fashion companies. The industry employs 175,000 people and generates some $10 billion in wages and $1.5 billion tax revenue, authorities say.
There is no copyright law in America that protects fashion. Anti-sweatshop laws affect labor, while this law would cover style and design.
More than 90 designers are showing this week at the Mercedes-Benz Fashion Week in New York, while others show in venues elsewhere in the city. The New York fashion shows are followed by shows in London, Milan and Paris.
SQUABBLING OVER TRENDS
Johanna Blakley, deputy director of the University of Southern California's Norman Lear Center, also argued the U.S. protection was not needed.
"The industry has not been able to demonstrate that copying has hurt their bottom line," she said. "Nor have they devised a reliable way of deciding whether one garment design is unique enough to deserve protection."
But Steven Kolb, executive director of the CFDA, said the bill would "force former copyists to actually design clothing or at least sign licensing agreements -- meaning more jobs for designers and more affordable choices for consumers."
While the U.S. legislation has a narrow focus, some experts said the focus could expand when interpreted by the courts. Some predict the legislation would produce an outpouring of lawsuits, as companies that make lower-priced styles are forced to defend their work.
Companies that could be affected by such a law are Sweden's
H&M
, Spain's
Zara
and Britain's
Topshop
, which produce lower-priced fashions inspired by top designers.
These are companies that turn out styles that imitate top designs, at a fraction of the cost. Where their factories are located, such as in China, is irrelevant to the proposed law.
The proposed law does not apply to those manufacturers who make outright fakes.
"It could mean that designers spend a lot of squabbling over who got to a trend first," said Chris Sprigman, a law professor at the University of Virginia.
"It could make (it) harder for the industry to do what it does best, which is set and destroy trends, and ... it could make it harder for young new designers to get into the business because you're going to have to be lawyered up," he said.
But Susan Scafidi, head of the Fashion Law Institute at Fordham University, said the legislation would spur innovation as companies that have focused on knockoffs hire designers to interpret rather than copy trends.
"The operative principle of this bill is deterrence, not active enforcement or litigation," she said. "Once former copyists realize that they need to up the design ante ... the culture of copying within the industry will change.
"Consumers will have available a greater variety of inexpensive choices rather than the same old cheap copies," she said.
(Editing by Ellen Wulfhorst and Philip
Barbara
)
© Thomson Reuters 2023 All rights reserved.