Les Galeries Lafayette bet on luxury and accessories
A department store that does not move forward, moves back. It is undoubtedly because the group believes in this adage that it has decided to launch a new transformation plan for the fashion floors of the Galeries Lafayette Haussmann. According to a statement from the offices of the Galeries Lafayette in the Figaro no less than 800 million euros will be invested over five years in the Paris flagship store, as well as in stores throughout France.

The direction is a new upscale face for the brand at Printemps which for years had relied on a luxury image.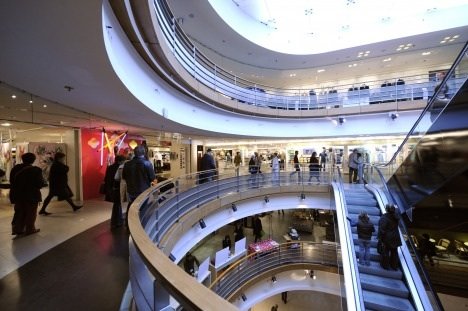 Luxury on all floors for the future Galeries Lafayette. Photo Lafayette Homme, Pixel Formula
At Haussmann 85 million euros will be invested over three years. Accessories, which already cover the entire ground floor, will gain the first floor as well. The ready-to-wear, which occupies five levels as of now, will be consolidated into three. The idea is not to reduce this sector as much as it is to provide more room for accessories, which are popular with tourists, and which, according to the brand's management, account for 60% of sales in the Paris flagship store. This tourist customer demographic has become increasingly important.
The shift to luxury also applies to the men's section, Lafayette Homme. According to Paul Delaoutre, General Director of department stores at the group Galeries Lafayette, the consolidation of Lafayette Gourmet into the Lafayette home unit, located on the other side of the Boulevard Haussmann, is under consideration. This move would be sensible considering the fact that the Lafayette House is far from having reached its target numbers.
Overall, all 58 Galeries Lafayette department stores throughout the provinces will be affected by the work between now and 2017. As in Strasbourg where, according to Michel Roulleau, Deputy Director General, the Galeries Lafayette, will soon welcome
Prada
,
Gucci
,
Balenciaga
and Saint Laurent. This is part of the preparations for the opening of a Printemps store in the Alsatian capital with a renovated store scheduled to open in February 2013 and which, like the boulevard Haussmann store, will play the luxury card more than ever.
Copyright © 2023 FashionNetwork.com All rights reserved.