Lobby group Adam questions Hermes share buyback
August 3 - Minority shareholders' association Adam on Tuesday questioned why Hermes was spending so much company cash buying back its own shares at such a high price, pushing the shares to a new record this week.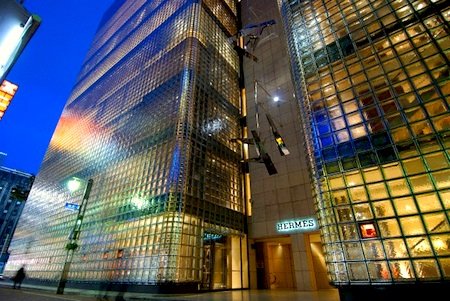 A nightime view of Hermes Building in Japan. - photo: corbis
Adam, which opposes Hermes's plan to create a controlling family holding to fend off a feared takeover from arch-rival
LVMH
, which has built up a large stake in the company, queried whether the buyback was in the interest of all shareholders.
"In light of the size of the buybacks since June, one can ask: What goal is the company pursuing in spending so much money on buying back its own shares? None of the objectives set in the buyback programme voted at the AGM seem to justify such expenses," asked Colette Neuville founder and head of Adam.
Though LVMH, the world's biggest luxury group, has repeatedly said it does not wish to make a bid for its smaller rival, Hermes declared the stakebuilding as hostile, and as a defence, it is aiming to create a family holding company controlling more than 50 percent.
Hermes says the controlling family is united, but some analysts believe some members not involved in the running of the company could be tempted to sell at a very high price -- whether as part of a buyback or to LVMH.
Since early June, Hermes has been bought back 114.5 million euros' worth of its own shares, equivalent to 14 percent of its cash reserves of 828.5 million euros as of Dec. 31.
As recently as last week, Hermes bought 14.8 million euros' worth of shares at prices ranging from 235 euros to 238.6 euros.
Shares in the maker of 5,000-euro handbags have been hitting a new high nearly every week since May. In the past three months, its share price has soared to 245 euros from 152 euros.
On Monday, Hermes shares reached a new high of 247.95 euros in a falling stock market, valuing the company at nearly 26 billion euros.
This means Hermes is worth about as much as France's second- largest bank Societe Generale and more than twice the value of Renault , France's second-largest carmaker.
As part of its share buyback programme, Hermes has set itself a maximum price of 250 euros per share, which the current market price is close to reaching.
"Hermes's buyback programme is helping drive up the share price," said one Paris-based analyst. "But somehow I don't think all these shares are being bought to be handed over to staff," she added.
No-one at Hermes was available for comment on Tuesday.
Hermes shares are trading on a price to earnings ratio of about 50 times this year's earnings, more than twice the European luxury sector average of 21 times for 2011 earnings.
"Hermes is one of the most beautiful absurdities of the market," said another analyst who declined to be named.
The shares have been climbing steadily in recent weeks even though most brokerages have "sell" or "hold" recommendations on the stock.

WHO IS SELLING HERMES SHARES?

In a statement posted on its website, Hermes said the goals of its buyback programme included: stimulating the market for its shares, cancelling shares, accumulating shares to use for potential acquisitions and to give shares to staff.
Adam also asked who was selling Hermes shares, as the share price indicated there were few sellers in the market.
"Who are the sellers of these blocks of shares acquired by Hermes? Are they part of the public? - in which case, these buybacks drastically reduce the already small liquidity of the stock," Neuville asked.
Neuville also asked if it was possible family members were selling shares to their own company.
The small volume of freely traded stock in the company will have served to amplify the share price movements.
Analysts estimate Hermes liquidity to be less than 5 percent. A spokeswoman for Hermes last week told Reuters that family shareholders owned 72.8 percent. Hermes bought 578,822 shares between June 7 and July 29, or 0.55 percent of equity.
LVMH said last week it had raised its stake from 20.2 percent to 21.4 percent, picking up 196 million euros' worth of shares, mostly from index-tracking funds that were offloading stock after Hermes liquidity fell due to LVMH's stakebuilding.
LVMH took the luxury market by surprise last autumn by announcing it had built up a stake of 17.1 percent in Hermes.
Earlier this year, Hermes obtained an exemption from the French markets regulator AMF from having to buy out all minority shareholders in its attempt to create a defensive holding company. The exemption was attacked by Adam, which asked the Paris court of appeal to examine the case. The court's decision is expected on Sept. 15.

(Additional reporting by Reporting by Blaise Robinson; Editing by Will Waterman)
© Thomson Reuters 2023 All rights reserved.