London show celebrates 60 years of British glamour
LONDON - A decadent gown made from feathers and a printed lace latex dress designed by some of fashion's luminaries will go on display as part of a new exhibition to celebrate the glitz and glamour of Britain's ballgowns.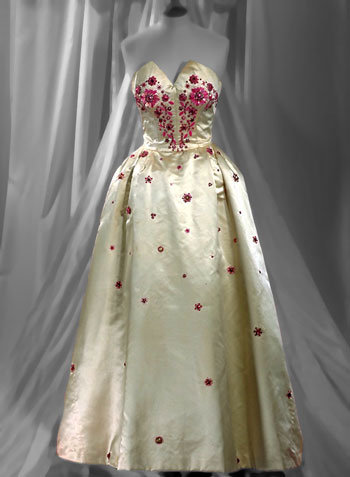 Norman Hartnell ballgown / Photo: Victoria & Albert Museum
Ballgowns: British Glamour Since 1950, on at London's Victoria and Albert Museum from May 19 until January 2013, showcases a collection of 60 dresses marking the journey of formal attire from private events to the public parade.
"This exhibition is a very exciting moment for us, we really wanted to launch the new fashion gallery with a display that celebrated British fashion design," co-curator Sonnet Stanfill said.
The show displays a vast array of specially made designs for social events like debutante balls, royal state occasions and red carpet events spanning 60 years.
Most people are excited by the idea of a fairytale evening, of choosing a gown that shows their level of taste that makes them look their best and presents them in their finest attire, Stanfill told Reuters.
"There is the moment that everyone hopes for when a woman goes to her wardrobe and chooses a gown, to have that moment where you feel like you're the belle of the ball."
Visitors stepping into the softly lit halls, will be able to see some of the most beautiful and daring creations from designers such as Alexander McQueen, Vivienne Westwood and Erdem.
Projections of the gowns, shot by photographer David Hughes, are beamed on each alcove of the domed ceiling in crisp detail.
The lower gallery showcases historic gowns dating back to the 1950s, including a Norman Hartnell design for the late Queen Mother and Princess Diana's "Elvis Dress" by Catherine Walker.
Choosing the designers and the dresses on the display was an extremely difficult task, Stanfill said.
"We really looked for things that showcased different couture techniques, different silhouettes and also of course, it had to be British, so by culling through our permanent collection, we chose the pieces that we felt were the grandest examples."
White chandeliers and giant silvery pearl necklaces which the mannequins are perched upon make up the new mezzanine level, which was designed to represent a grand ballroom.
But the exhibition isn't all about parties and layers of tulle and froth, added Stanfill, who said she discovered a layer of subversion beneath Atsuko Kudo's design, which appears to be lace but is made from latex.
"One of the things I have really enjoyed working for on this show, is notion of subversion...It's more than just a dress, it's that one element of surprise that I have really enjoyed discovering," Stanfill said.
"British design, you think you know what it's all about and then something comes along and upends your preconceived notions."
© Thomson Reuters 2023 All rights reserved.